BlackRock Uses Glencore Call to Question Nickel Miners' Inaction
Nickel worst performing metal this year after 44% slump

Stockpiles have grown to equal almost six months of demand
BlackRock Inc., the world's largest asset manager, questioned the nickel industry's failure to shut down unprofitable mines, even after a global supply glut drove prices to a 12-year low.
The nickel market "seems to be very, very depressed relative to the cost curve," Evy Hambro, manager of BlackRock's $3.1 billion World Mining Fund, said on a conference call Thursday held by Glencore Plc. BlackRock is Glencore's fourth-biggest shareholder. "How much longer do you think we're going to see some of this production remain around before it's forced to be taken out of the market?"
Hambro's question underlines investors' growing frustration with miners' reluctance to close unprofitable operations. Glencore Chief Executive Officer Ivan Glasenberg has himself been one of the industry's most outspoken critics, saying in 2013 that the biggest producers had "really screwed up" by expanding too fast. The Baar, Switzerland-based company has already cut output in copper, zinc and coal.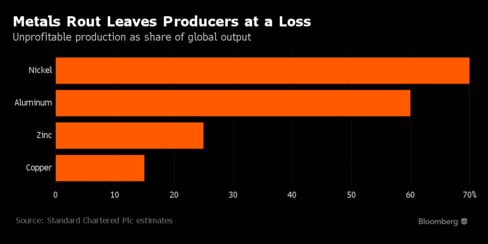 "People are bleeding cash, and when I say bleeding, it's big cash," Glasenberg said in response to Hambro's question, adding that as much as 70 percent of global nickel output is unprofitable. "We don't understand why people don't react in the same manner as we do. Big mining companies, other mining companies keep operations open, praying for better prices."
Nickel has plunged 44 percent this year, the worst performing main contract on the London Metal Exchange. Prices touched the lowest since June 2003 last month.
Large Stockpiles
While Societe Generale SA earlier this month forecast the nickel market to be in deficit in both 2016 and 2017, years of excess production has expanded stockpiles. Inventories reached a record of about 900,000 tons, equal to almost six months of global demand, Macquarie Group Ltd. estimated last month.
Glencore said it controls two nickel operations that don't make money at current prices. Glasenberg said on the call that the Murrin Murrin mine in Australia was unprofitable and may be closed and that its recently built Koniambo mine in New Caledonia was a "difficult" one. Glencore inherited the project through its 2013 acquisition of Xstrata Plc.
Murrin Murrin produced 27,000 metric tons of nickel in the first nine months of the year, while Koniambo delivered 7,700 tons of ferronickel, 10 percent less than a year earlier, according to Glencore's third-quarter production report. The two assets account for almost half of the company's nickel production.
Koniambo Mine
"Koniambo is one of those newly built assets which we've inherited and we've struggled with since we got it," Glasenberg said. "We're not married to the asset and we're going to be pragmatic. I can assure you we will not continue spending there in the hope of better days."
Hambro declined to comment further when contacted later by Bloomberg News. His World Mining Fund's biggest holdings by value are in BHP Billiton Ltd., Rio Tinto Group and First Quantum Minerals Ltd., according to data compiled by Bloomberg.
BlackRock has been invested in Glencore since before the company's 2011 initial public offering at which it sold $10 billion of shares. The stock has since plunged more than 80 percent amid a slump in raw-materials prices and on concern about its debt load. It's the second-worst performer on the U.K.'s benchmark FTSE 100 Index this year.
Peter Grauer, the chairman of Bloomberg LP, the parent of Bloomberg News, is a senior independent non-executive director at Glencore.
Before it's here, it's on the Bloomberg Terminal.
LEARN MORE