Barclays: Watch Out for Slowing Dividend Growth Next Year
More payouts in the face of lower earnings is unsustainable.
Dividends are poised to set a new annual record this year, but analysts at Barclays Plc are warning clients that it's going to harder to get such hefty payouts in 2016.
They argue that dividends have been climbing while earnings have declined, setting the stage for an abrupt turnaround next year.
"In the first three quarters of 2015, the companies in the S&P 500 paid $283 billion in dividends. This is more than the full-year payout in every year except 2013 and 2014. For all of 2015, we project dividend payments will be $380 billion, setting a new annual record," the team, led by U.S. Equity Strategist Jonathan Glionna, says. "But all is not positive. The growth rate of dividends is slowing. We believe it will fall further."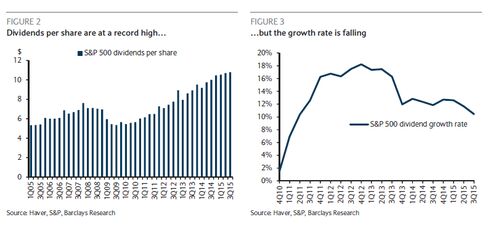 The suffering energy sector is a prime example of this unsustainable dynamic, the analysts say.
"The resilience of dividends in the face of challenging fundamentals is best illustrated by the energy sector," the team says. "Dividends for the energy sector remained at an all-time high in the third quarter of 2015, despite a 60 percent decline in oil prices and a collapse in profits."
The future pace of dividends has gained increased prominence as the Federal Reserve is expected to hike interest rates before the end of the year and companies such as Kinder Morgan—a stalwart of the U.S. energy complex—have already announced dividend cuts in recent weeks.
While dividends overall grew at 9 percent in 2015, Barclays says growth will fall to a slower 5 percent rate in the new year. That would still mark an astonishing seven consecutive years of annual records for dividend payments, they add. And while the energy sector suffers, the firm is of the mind that financials and technology will see the fastest dividend growth in 2016. Here's a full look at what the team expects in each sector: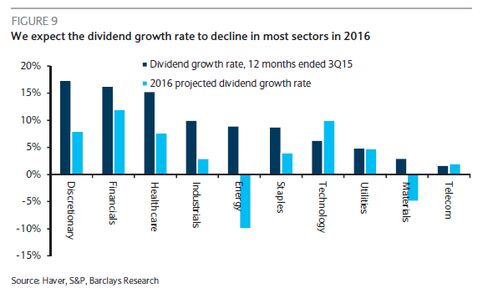 While the firm says higher payouts will be harder to find, it is still recommending a dividend growth strategy rather than a dividend yield strategy due to the stronger dollar. In other words, they recommend investing in companies that are still likely to increase their dividends in the future rather than the ones that have already established a bigger dividend.
Before it's here, it's on the Bloomberg Terminal.
LEARN MORE