A Hedge Fund Founder Says Abe's Activist Army Is Doing It Wrong
Jamie Rosenwald, who's been buying Japanese shares since 1972, says short-sighted activists are failing to make the most of one of the biggest opportunities for investors in decades.
Prime Minister Shinzo Abe's governance overhaul is about getting executives to invest excess capital, not just give it back to shareholders, says the co-founder of the $3.3 billion Dalton Investments. Rosenwald picked his first Japan stocks as a teenager working with his grandfather, a disciple of the famous value investor Benjamin Graham. Rosenwald, who now has more than $1 billion in Japanese equities, says Abe is inspiring one of the most promising changes in how businesses are run since the collapse of the bubble economy, and investors chasing quick handouts are missing the point.
"Over the past 25 years there have been very few times -- I can count them all on one hand -- where I felt we had a tailwind," Rosenwald, 57, said in a phone interview from Los Angeles. Some investors have "interpreted the corporate governance scheme simply as the ability for managements to return cash to you," he said. "It's awfully sad as a shareholder if all you want is somebody to return the cash."
Since returning to power in 2012, Abe has revamped rules for shareholders and companies as he enlists investors to press firms to make better use of funds. Activists from Daniel Loeb to Yoshiaki Murakami have seen an opportunity and started to demand bigger dividends and more share buybacks.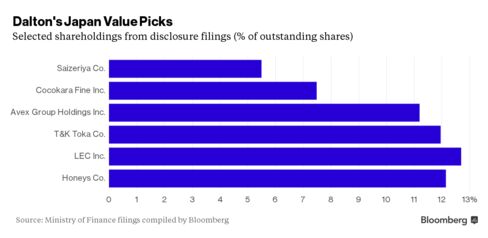 Dalton prefers companies that invest their capital, Rosenwald says. His funds, which take both long and short positions, only buy cheap businesses where management hold large amounts of stock and can use funds well.
Rosenwald looks after Dalton's Asian equity investments, which make up about $2.5 billion of the company's assets. Half of that is in Japanese stocks, with the rest in markets including Hong Kong and India. It has more investment choices in Japan these days as the corporate governance code, started in June, seeks to link executive pay to share performance.
Some Japanese executives haven't welcomed the return of activists under Abe. Kazuo Inamori, who established Kyocera Corp. and KDDI Corp., said in October that employees should come before investors, while Yoshihiko Miyauchi, co-founder of Orix Corp., said Japan should consider stripping voting rights from short-term shareholders.
Not so long ago, Dalton itself was the barbarian at the gate. Before the financial crisis, the fund failed to persuade Japanese companies Fujitec Co. and Nippon Fine Chemical Co. to go private in management buyouts. Rosenwald says he's learned from the experience.
"We were classified as one of the Japanese activists and it didn't do us necessarily any good," said Rosenwald, a former adviser to George Soros. We tried other methods and "never got anywhere with them, so finally we worked within the system."
Working from the inside yielded success in 2007 when Dalton teamed up with a fund part owned by one of the biggest banks to complete what Dalton calls the first management buyout of a healthy Japanese company, Sun Telephone Co. Rosenwald says the investment was profitable for everyone when they later sold their stakes.
Value Investing
Rosenwald's grandfather James was a financial-services analyst for Graham's firm before joining Nikko Securities in New York as the brokerage's first non-Japanese employee. While interning with his grandpa, Rosenwald bought shares in predecessors of Kirin Holdings Co. and Mitsubishi UFJ Financial Group Inc. and became hooked as they surged. Four decades on, he teaches the investment style at his alma mater, New York University.
Dalton owns shares in about 60 Japanese companies and has short positions in roughly 25. It filed disclosure reports of stakes of more than 5 percent in 21 companies this year.
Dalton owns 11 percent of Avex Group Holdings Inc., a music and video group with a market value of $523 million. When a building Avex is constructing in Tokyo is finished, that alone will be worth the market value of the company, according to Rosenwald. Still, Avex shares slumped 29 percent this year through Thursday. Avex rose 1.1 percent in Tokyo on Friday, against a 0.6 percent gain for the Topix index.
Reinvesting Wisely
"It's trading at 50 cents on the dollar," Rosenwald said. "It's got an alignment of interests because the founders of the company own a ton of stock, and they have done. And it's got a history of reinvesting capital wisely over time."
As Abe seeks greater capital efficiency at firms, activists have taken it as a green light to call for cash. Earlier this year, billionaire Loeb's Third Point hedge fund won higher returns from robot-maker Fanuc Corp. Oasis Management called on Kyocera to return more than $4 billion, while Murakami urged Kuroda Electric Co. to pay out all its profit to shareholders for the next three years.
In the early days of Abe's overhaul, there are signs that will please both the activists and Dalton. Dividends and buybacks are surging, and capital investment increased last quarter by the most in eight years. For Rosenwald, that means more opportunities to buy.
"Let me tell you, investing cash for growth is a hell of a lot more fun," Rosenwald said. "I'm much more interested in companies that are willing, capable and have opportunities to utilize the cash far better than I could."
Before it's here, it's on the Bloomberg Terminal.
LEARN MORE