Yuan Bears' Appetite Whetted as PBOC Support for Currency Fades
China seen depreciating yuan to help boost a slowing economy

Currency weakens 0.6 percent since IMF granted reserve status
Now that China has won IMF reserve status for the yuan, there's growing evidence it's allowing the currency to depreciate by stealth as it switches its focus to the economy.
QuickTake The People's Currency
The currency closed at a four-year low on Thursday as the central bank cut its reference rate to the weakest since 2011. The yuan has dropped 0.6 percent since the International Monetary Fund's Nov. 30 decision to grant it reserve-currency status. And options suggest there's a better-than 50 percent chance it will fall back to 6.5 per dollar by the first quarter of 2016, a level last seen four years ago.
A lower exchange rate would help the People's Bank of China revitalize an economy that's growing at the slowest pace in 25 years. The authorities may also be trying to release pent-up depreciation pressure before an increase in U.S. interest rates, according to Bloomberg Intelligence economists Tom Orlik and Fielding Chen. PBOC Deputy Governor Yi Gang said last week that two-way fluctuations are a normal feature of markets.
"It can't be ruled out that this kind of price move is part of the authorities' unstated response to pressures toward depreciation amid slowing growth," said Michael Every, Hong Kong-based head of financial-markets research at Rabobank Group in Hong Kong. "They openly deny any depreciation risks, but it would be great for them if they can say one thing, do another with a wink, and control the pace of the process at the same time."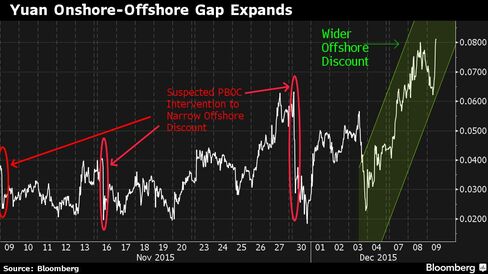 The PBOC intervened to prop up the yuan, known officially as the renminbi, in both the onshore and offshore markets as it sought reserve-currency status. Standard Chartered Plc estimates that the inclusion will draw $1.1 trillion to yuan assets over the next five years. Since the decision, the PBOC has cut the yuan's daily fixing six times in eight days.
The onshore currency declined 0.15 percent to close at 6.4378 per dollar on Thursday and the offshore rate was around 6.5220, leaving a gap of 842 pips. ABN Amro Bank NV said the PBOC would tolerate a difference of about 1,000 pips.
The onshore yuan's gap with the PBOC's fixing, which limits moves to 2 percent on either side, increased to 0.26 percent on Friday, the widest since Nov. 2. Chinese authorities are conducting a "stress test" before the U.S. Federal Open Market Committee meeting on Dec. 15-16, said Zhou Hao, a Singapore-based senior economist at Commerzbank AG.
U.S. officials are widely expected to raise interest rates for the first time since 2006 at next week's gathering.
"The PBOC is allowing market forces to play a larger role in determining the exchange rate ahead of next week's FOMC monetary policy meeting," said Roy Teo, a senior foreign-exchange strategist at ABN Amro in Singapore. "We suspect that the PBOC has either refrained or reduced its intervention activities in the currency market."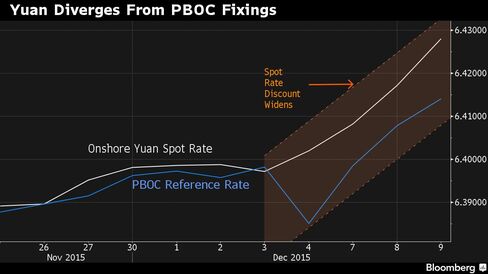 The Fed rate hike next week will give China a "perfect excuse" to scale back or suspend its foreign-exchange interventions, David Woo, Bank of America Corp.'s head of global rates and foreign-exchange research, wrote in an e-mail. "Yet we should not see China as engaging in competitive devaluation. They are simply letting the renminbi move with relative fundamentals," he said, using another name for the yuan.
China's exports shrank 6.8 percent in November in dollar terms from a year earlier, compared with the median forecast of a 5 percent decline in a survey of economists. Foreign-exchange reserves fell $87 billion, more than double the estimated $33 billion drop, as the PBOC sold dollars to prop up the yuan before the IMF decision. The economy will expand 6.9 percent this year, the slowest since 1990, according to a Bloomberg survey.
China will "keep the exchange rate in trade-weighted terms stable" and let it weaken versus the dollar, Hans Redeker, Morgan Stanley's head of global foreign-exchange strategy, said in a Bloomberg Television interview. "If you protect an exchange-rate level, then it either means that you run too tight monetary conditions or, alternatively, you are reducing your currency reserves."
The onshore yuan's staircase-style moves in the past few days suggest the possibility that policy makers are engineering an orderly depreciation before a bigger move early next year, according to Rabobank. This comes after China shocked world markets by devaluing the currency on Aug. 11.
Another devaluation is "very, very possible," Ana Armstrong, chief executive officer of Armstrong Investment Managers, said on Bloomberg Television. "The priority of policy makers in China is to avoid a hard-landing -- that would have quite a bad impact on the global economy, especially Asia."
Before it's here, it's on the Bloomberg Terminal.
LEARN MORE