Complexity of electricity bills blunt winter heating savings

Average power user to see a mere $40 drop in costs this year
The good news: The majority of Americans will pay substantially less than they did last winter to keep warm. The bad news for those who heat with electricity: That doesn't include you.
Households primarily using oil, natural gas or propane will spend anywhere from 13 percent to 31 percent less on their heating bills from October through March and save as much as $570 from a year earlier, U.S. Energy Information Administration data released Tuesday show. Meanwhile, electricity users, which make up more than a third of the nation's households, will see a mere $40 drop on average.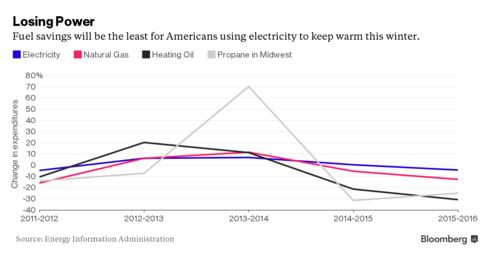 While oil and gas burners are cashing in on a massive slump in wholesale energy prices and a warmer-than-usual winter, electricity consumers are paying for more than just the energy being delivered to their homes (government fees and power-line costs, to name a few). The average household using gas, oil or propane is on track to spend the least to heat in at least seven years. Power costs will be the lowest in three.
"If you're using power, you're just not going to benefit as much from the same drop-off" in energy prices, Colleen Regan, a North America power analyst at Bloomberg New Energy Finance in New York, said by phone Tuesday. "About two-thirds of a retail electricity bill are not actually the cost of power generation. Residential rates in New England, for example, can be four to five times higher than the wholesale rate."
Taxes, charges for power-line enhancements and fees related to renewable energy all work to boost electricity bills, Paul Patterson, a New York-based analyst for Glenrock Associates LLC, said by phone.
Average electricity costs for U.S. households from October through March will be about $920, down 4.2 percent from a year ago, according to the EIA. During the winter of 2008-2009, the average electric bill was $866 per household.
Those in the South will see their electricity bills decline an average of 7.1 percent, the biggest drop among U.S. regions, EIA projected. For those in the West, expenditures may actually increase by 4.8 percent to average $873. The agency forecast savings of 5.4 percent for the Northeast and 5.1 percent for the Midwest.
Before it's here, it's on the Bloomberg Terminal.
LEARN MORE