Sweden's Central Banker Should Be Careful What He Wishes For
A historic housing boom shows what's at stake at the Riksbank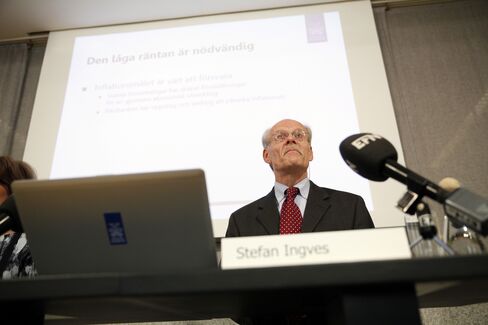 Sweden's top central banker should be careful what he wishes for.
Governor Stefan Ingves' call to stem household debt growth threatens to hurt the very recovery he's relying on to drive Sweden away from disinflation.
That's because housing construction has become one of the main growth drivers that has made Sweden one of the best performing developed economies.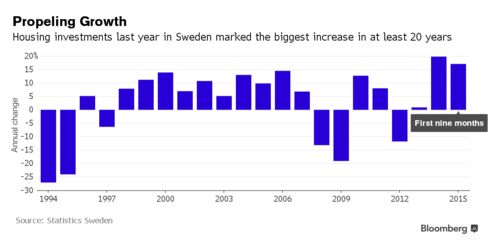 And Ingves is largely responsible. He has cut benchmark interest rates to an unprecedented minus 0.35 percent and unleashed a bond buying program that aims to corner a third of the government bond market by mid-2016.
Here are the facts:
Housing investments rose last year by nearly 20 percent, the most since at least 1982, according to Statistics Sweden. That has continued this year, with a 17.1 percent annual increase through September.
A severe housing shortage in Sweden has driven house prices to more than double in the last ten years. (Low interest rates are also a major factor in the rapid price growth)
Housing investments boosted growth by 0.2 percentage point in the third quarter, when the economy expanded 0.8 percent

Now Ingves says it's urgent for other authorities in charge of financial stability to act as private debt and home prices have surged to a record. He even last month said it wouldn't be a ``catastrophe'' if home prices fell a bit.
``There are a lot of examples where you end up with a poor economic development for many years when you're trying to dig yourself out of the hole that you've put yourself in,'' he said on Nov. 25, referring to Swedes' high debt levels.
He has even attacked the nation's covered bond market, saying the Riksbank would limit their use as collateral because of the risks involved. That drew a sharp rebuke from the Financial Supervisory Authority.
While the regulator shares some of Ingves' worries, it's concerned that a bigger crackdown on the housing market could backfire.
"The balancing act is to reduce the risks that we're seeing with rising indebtedness among households and not do so much that household cut their consumption a lot today or, in a worse case scenario, even take measures that lead to a big house price fall," Henrik Braconier, the watchdog's chief economist, said last month.
Before it's here, it's on the Bloomberg Terminal.
LEARN MORE