South Africa Treasury Chief Denies He Was Told Not to Reapply
Market reaction to cabinet rumors is unfortunate, Fuzile says

Treasury official says his contract only expires in May 2016
South Africa's National Treasury Director-General Lungisa Fuzile dismissed a report on Independent Online that he was told not to reapply for his position when his contract expires next year.
"My contract only expires in May next year and not January, so it's too early to be talking about that," Fuzile said by phone on Wednesday. "I've even heard things that people were saying I shouldn't apply, but I don't know anything about that at all. My contract expires on the 15th of May next year and that is still a long way off."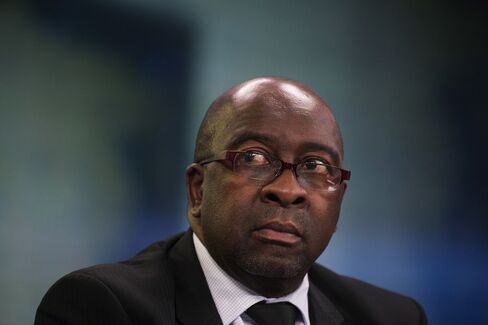 Johannesburg-based Independent Online said on Dec. 7 that Fuzile won't have his contract extended when it comes up for renewal in February, as part of changes President Jacob Zuma will make to his cabinet, including possibly dropping Finance Minister Nhlanhla Nene or moving him to another portfolio. The website cited unidentified people with knowledge of the process and an unnamed Treasury official.
Bongani Majola, a spokesman for Zuma, said by phone on Wednesday that there was no "cabinet reshuffle on the cards as far as I know." Phumza Macanda, a spokeswoman for the Treasury, said cabinet appointments are the prerogative of the president and referred questions to his office.
A cabinet change now would be Zuma's sixth in as many years. Speculation that Nene, 57, and Fuzile may be affected in the move creates more uncertainty for an economy struggling to cope with plunging metal prices, credit-rating downgrades, power constraints and a record-low currency.
South African bonds are the worst performing among emerging markets this quarter in dollar terms and the third worst in the local currency. The country's credit rating was downgraded last week to BBB- by Fitch Ratings Ltd., one level above investment grade, while Standard and Poor's cut the outlook on its equivalent rating to negative, bringing the nation a step closer to junk status. The rand fell to a record low of 14.7009 against the dollar on Tuesday.
"It's unfortunate that the market is reacting to all this cabinet speculation, but I can't comment on that." Fuzile said.
Before it's here, it's on the Bloomberg Terminal.
LEARN MORE