Zuckerberg Can't Duck Questioning in Virtual Reality Goggle Suit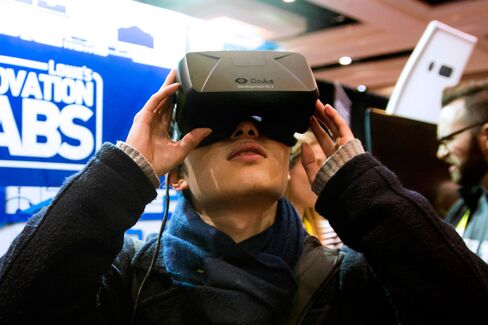 Mark Zuckerberg was ordered to submit to questioning for a lawsuit alleging the virtual reality headset maker that the Facebook Inc. founder acquired in 2014 had misappropriated another company's technology.
Despite Facebook's objection, Zuckerberg must give a deposition because he has "unique knowledge" of the Rift headset based on his personal testing of it and his valuation of Oculus VR Inc. before Facebook bought the company for $2 billion, according to an order issued Monday by a federal magistrate judge in Texas.
ZeniMax Media Inc., a video-game maker, claims Oculus wrongfully took copyrighted computer code, trade secrets and technical know-how and exploited it.
Facebook argued that ZeniMax was trying to harass its chief executive officer by demanding to question him before seeking to depose anyone else for the case. The magistrate judge said Monday lesser-ranking employees should be questioned ahead of Zuckerberg to minimize the intrusion on his time.
The case is ZeniMax Media Inc. v. Oculus VR Inc., 14-cv-01849, U.S. District Court, Northern District of Texas (Dallas).
Before it's here, it's on the Bloomberg Terminal.
LEARN MORE