U.S. Stocks Decline After China Trade Data Add to Growth Concern
Industrials slump along with commodity shares after data

China rekindles worries that hit equities during the summer
U.S. stocks declined, tracking a selloff in equity markets around the world, on renewed worries about the prospects for global growth.
Data showing another month of weakening Chinese trade highlighted the slump in global demand that's driven a rout in energy and commodity prices this year. Industrial and raw-material companies led today's retreat, with Caterpillar Inc. and Boeing Co. down at least 2.3 percent, while Alcoa Inc. sank 5.8 percent.
The Standard & Poor's 500 Index fell 0.7 percent to 2,063.59 at 4 p.m. in New York, trimming an earlier 1.2 percent drop as the gauge fluctuated near its average price during the past 200 days. The Dow Jones Industrial Average lost 162.51 points, or 0.9 percent, to 17,568. The Nasdaq Composite Index slipped 0.1 percent. About 7.5 billion shares traded hands on U.S. exchanges, 6 percent above the three-month average.
"The Chinese data that came out pushed us down this morning," said Larry Peruzzi, managing director of international equities at Mischler Financial Group Inc. in Boston. "Prior to the past couple of days, we were looking at how data was going to influence the Fed and rates and now the energy story is really dictating the market. It's all commodity-driven."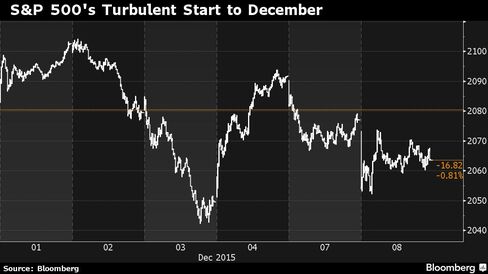 The weak China data rekindled worry the slowdown there will spread -- a concern that precipitated the summer rout on global financial markets. Imports slumped for a record 13th straight month, albeit at a slower-than-estimated pace. The drop is a drag on other economies as the Asian nation's flagging industrial plants need less raw materials while robust consumer demand hasn't picked up fast enough to offset those declines.
China Worries
Anxiety over the world's second-largest economy abated in the previous two months as the government took steps to boost growth and support its stock market. The S&P 500 rallied more than 12 percent from late September into early November as China calmed and commodity shares rebounded from a summer swoon.
"The U.S. economy has been looking pretty good, but other regions like China have come into play and showed that growth around the world may not be as strong," said Richard Sichel, chief investment officer at Philadelphia Trust Co., which oversees $2 billion.
A selloff in energy and raw-material companies yesterday dragged the S&P 500 further away from a May peak, after a Dec. 1 rally brought it within 1.4 percent of the record. The benchmark is coming off a week that featured moves of at least 1 percent in four consecutive days, the longest stretch since August. The index has not had back-to-back gains since Nov. 3.
The Chicago Board Options Exchange Volatility Index rose 11 percent Tuesday to 17.60. The measure of market turbulence known as the VIX posted its steepest drop in more than two years on Friday, as equities rallied more than 2 percent.
Strong employment data last week increased speculation that the economy is healthy enough to handle higher borrowing costs, with traders pricing in an 80 percent chance of an interest-rate increase when Federal Reserve officials conclude a two-day meeting on Dec. 16. Reports on retail sales, producer prices and consumer sentiment are due at the end of this week.
Nine of the S&P 500's 10 main industries dropped Tuesday, with industrial, raw-material and energy shares down more than 1.4 percent. Health-care shares rose, bolstered by gains in biotechnology companies.
Southwest Airlines Co. decreased 9 percent, the most since May 20, to lead industrial shares lower. The airline abandoned its forecast for a possible increase in a benchmark revenue gauge this quarter, stoking investors' concern that the industry is still struggling to prop up airfares. United Rentals Inc. and Ingersoll-Rand Plc fell more than 3.3 percent.
Airlines Retreat
A Bloomberg index of U.S. airlines dropped 4 percent, its biggest decline since Oct. 6. Spirit Airlines Inc., Delta Air Lines Inc. and United Continental holdings fell at least 2.9 percent as all 11 companies in the gauge decreased.
The Dow Jones Transportation Average sank 2.8 percent, the most in more than three months to the lowest since the bottom of the August selloff. Norfolk Southern Corp. tumbled 5.7 percent, its steepest drop in three years, after rejecting Canadian Pacific Railway Ltd.'s latest takeover offer. CSX Corp. and Kansas City Southern declined 3.4 percent.
Kinder Morgan Inc. and Diamond Offshore Drilling Inc. lost more than 3.5 percent to lead the drop in energy, while Anadarko Petroleum Corp. fell to its lowest level since September 2010. The energy group rallied 22 percent from an almost four-year low in August to a three-month high on Nov. 3. Since then, the sector is down almost 15 percent. West Texas Intermediate crude futures slipped 0.4 percent to $37.51, the lowest settlement since February 2009.
Copper miner Freeport-McMoRan Inc. sank 6.8 percent to its lowest level since November 2002, leading a drop among raw-material shares. Alcoa fell the most in two months. The Bloomberg Commodity Index declined for a second day to linger at a 16-year low.
Financial companies in the S&P 500 slipped 1.3 percent. Asset manager Franklin Resources Inc. fell 3.7 percent after Barclays Plc downgraded the shares to the equivalent of sell. Fifth Third Bancorp and Zions Bancorporation lost more than 3.1 percent. The KBW Bank Index dropped 1.8 percent, down for the fourth time in five days.
Chipotle, Avon
Chipotle Mexican Grill Inc. lost 1.7 percent, extending its five-day skid to 6.6 percent amid an E. coli outbreak that has sickened dozens of customers. In the latest sign of trouble, the company temporarily closed a restaurant in Boston after more than two dozen Boston College students, including members of the men's basketball team, reported getting ill after eating there. In that case, health officials are leaning toward norovirus as the culprit, not E. coli, Chipotle said.
Avon Products Inc. slumped 8.2 percent, after surging 35 percent in the previous seven sessions. Recent gains have come amid a report that the cosmetics company was in talks to sell its North American business and an equity stake to Cerberus Capital Management. Activist investor Barington Capital Group then urged the company to reject such a deal at a "fire sale" price. Barington was said to be scheduled to meet with Avon management yesterday.
Investors bid up a pair of auto-parts retailers Tuesday. AutoZone Inc. advanced 5.8 percent, its strongest gain in 22 months, after fiscal first-quarter profit and comparable sales exceeded analysts' estimates. Meanwhile, Pep Boys – Manny, Moe & Jack, the auto-parts chain that previously accepted a takeover offer from Bridgestone Corp., rose 1.5 percent after saying a rival $15.50-a-share bid from billionaire Carl Icahn is probably a "superior proposal."
Alexion Pharmaceuticals Inc. rallied 5.3 percent, the most since Oct. 15, to lead health-care higher. The biotech company's drug for a rare and deadly genetic disease won approval from regulators, its first U.S.-cleared treatment from its $8.4 billion deal this year for Synageva BioPharma Corp. Celgene Corp. and Biogen Inc. added more than 2.4 percent, while the Nasdaq Biotechnology Index increased 1.9 percent.
Before it's here, it's on the Bloomberg Terminal.
LEARN MORE