No New Year Cheer for Commodity Bulls Amid `Uglier' Chart Signs
Bloomberg Commodity Index declined to lowest in 16 years

`Elliott Wave' signals more pain is in store, Zimmermann says
For commodity bulls hoping for some New Year cheer after the worst rout since the financial crisis, a Depression-era trading theory is giving some disappointing signals.
"It's going to get uglier," said Walter Zimmermann, the chief technical analyst at United-ICAP, who has been tracking commodity cycles since the 1970s.
Even with the Bloomberg Commodity Index of returns on 22 raw materials falling to a 16-year low, investors will have to wait another year for relief, Zimmermann said. Long-term Elliott Wave analysis signals the index may drop by more than half from current levels before prices rebound, he said.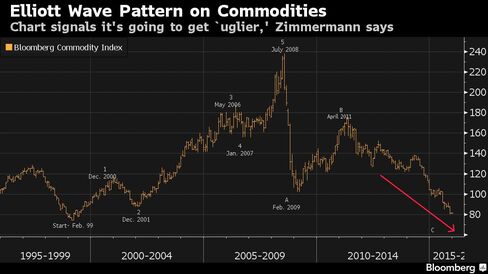 The Elliott Wave is based on a theory developed by the accountant Ralph Nelson Elliott during the Great Depression, and holds that prices move in a pattern of five steps as part of one trend followed by three steps in the opposite trend. The upward wave ended when the index reached a record in 2008, and the "A-B-C" downward pattern began when the gauge fell to a six-year low in 2009. The pattern will end at 39 in a "worst-case scenario," should it break below 74.65, Zimmermann said.
"When the Bloomberg Commodity Index breaks 75, it seems there's more pain to come," Jersey City, New Jersey-based Zimmermann said in a telephone interview. "I tell people to prepare for 39."
Wagers on price gains outnumber bets on price declines for nine of 18 U.S.-traded commodity futures tracked by the Commodity Futures Trading Commission, including crude oil. That signals hedge funds and money managers are still holding out, keeping prices from hitting a bottom, and prolonging the agony, Zimmermann said.
The Bloomberg gauge fell as much as 1 percent to 78.7206 on Tuesday, the lowest since 1999. The index is set for a fifth annual loss, the longest since at least 1992, as the economy of China, the largest consumer of metals and energy, expands at the slowest pace in a generation. A strengthening dollar amid expectations that the Federal Reserve will raise U.S. interest rates is compounding the slump.
Global supply gluts in everything from corn to crude oil will continue to pressure prices, meaning it will take longer for the Bloomberg index to reach a bottom, Zimmermann said.
Even with the surpluses and bearish long-term Elliott Wave, shorter-term indicators signal a turnaround may be at hand, said Ludwig Garric, the New York-based head of U.S. research at Trading Central SA. A one-year Elliott Wave chart suggests copper may be close to completing a bear-market cycle and about to start a bullish "corrective move," he said.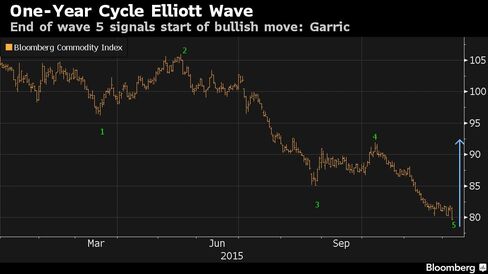 A rise in the relative strength index adds to signs that "bears are running out of steam," Garric said. RSI for the Bloomberg Commodity Index was at about 31 on Monday, near the 30 level that's viewed by some traders who study charts as a signal that a security is oversold and is poised to rebound.
Before it's here, it's on the Bloomberg Terminal.
LEARN MORE