Copper Meltdown Burning Miners Is Boon to Builders as Costs Sink
Average U.S. home contains about 400 pounds of wire and pipes

Price slump guts Freeport profit, mine-based Zambia economy
Copper producers from Glencore Plc to Freeport-McMoRan Inc. spent most of this year getting slammed by the metal's worst slump since the recession. But there are some folks who are cheering.
With prices heading for a third straight annual decline, the rout is a welcome reprieve for metal buyers like electricians and builders who put about 400 pounds (181 kilograms) of copper into the average U.S. home. As recently as 2011, copper traded in New York was at all-time-highs, after more than five-fold gains in the previous decade. Now, with demand growth cooling in China, the biggest user, global surpluses have emerged.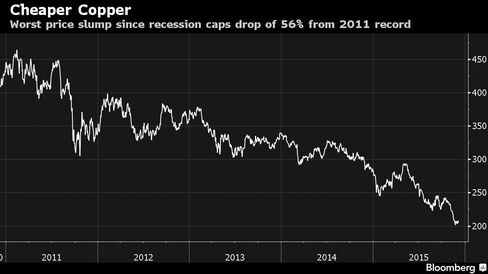 "Business has been so much better -- the best in about 10 years," said David Chapin, the president Willmar Electric Service, a Minnesota-based company that spends about $1 million a year on copper wire it installs for clients in several Midwest states. While that's only 5 percent of Willmar's total costs, cheaper metal is boosting profit on projects that a few years ago were close to being money losers, Chapin said.
On the Comex, copper futures fell 27 percent this year to $2.054 a pound and are heading for the biggest annual retreat since 2008. The metal touched $2.002 on Nov. 23, a six-year low. Prices haven't traded below $2 since 2009.
Copper's role in construction and architecture dates as far back as ancient Egypt, where temple doors were clad with the metal, according to the Copper Development Association. In modern times, the commodity's conductive properties and it's resistance to corrosion have made it sought after for pipes and wires. Globally, construction accounts for about 30 percent of demand, Bloomberg Intelligence data show. The transportation industry makes up about 13 percent, including for use in cars and trucks.
Profit Boost
Richardson, Texas-based Lennox International Inc., which makes and markets heating and cooling equipment, said on an Oct. 19 earnings call that cheaper metals and commodities provided a benefit of $15 million to earnings in 2015. There's about 50 pounds of copper in the average air-conditioning unit.
"The winner here will be anyone who purchases and uses copper," Dane Davis, a metals analyst at Barclays Plc in New York, said in a telephone interview. "The construction industry stands to benefit from cheaper copper pipes. On a national scale, automobile producers are also going to be winners because it's an important part of car production."
Gross profit margins of the 50 largest construction and materials companies grew 11 percent on average in the third quarter, from a year earlier, while margins for mining companies shrank 23 percent, according to data compiled by Bloomberg. Construction industry shares rose 21 percent in the past year as mineral producers slumped 20 percent.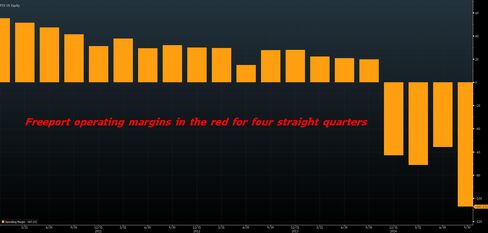 Banks including Societe Generale SA and Goldman Sachs Group Inc. expect prices will continue to decline in 2016. That's damping the outlook for mining companies including Freeport and Chile's state-owned Codelco, the world's two biggest producers of the metal.
Debt Woes
With copper down about 56 percent from a record in 2011, some producers are struggling to pay down debt. A Bloomberg Intelligence measure shows debt levels for the top copper-mining companies increased about 68 percent to $281 billion in 2015 from $168 billion four years earlier, analysts Richard Bourke and Matthew Geudtner wrote in a Dec. 3 report. The Bloomberg World Mining Index, which tracks shares of 80 companies, has tumbled 34 percent this year.
Producers are cutting output to help trim the global supply glut. While that can help bolster corporate balance sheets, it also means pain for mineral-rich countries as workers are fired and exports slow.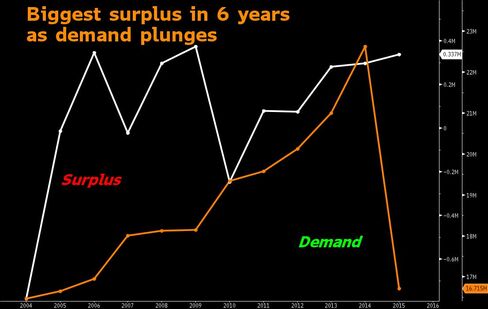 For nations including Zambia, which depends on copper for 75 percent of foreign-exchange inflows, further price declines will add to an already bleak economic situation. A plunge in the currency helped drive annual consumer inflation to 19.5 percent in November, and the rate may top 25 percent next year, according to NKC African Economics. That means the Bank of Zambia will need to keep tightening monetary policy, driving up borrowing costs even though the pace of economic growth is the slowest since 1998.
Vedanta Resources Plc and Glencore have both announced production stoppages at mines in the African country.
Lost Jobs
In Chile, the biggest global source of the metal, state-run Codelco is laying off workers in a bid to reduce expenses, even as it maintains output. Prices probably will drop below $2 as the U.S. raises interest rates, and the company will probably look for more ways to cut costs, Chief Executive Officer Nelson Pizarro said in Santiago on Nov. 27.
Claudio Latorre worked as a supervisor at Codelco's Chuquicamata site in northern Chile for 24 years before he was laid off in late October, along with about 30 others.
"I don't know any other job," said Latorre, 53. "I've been able to take care of myself because I was financially organized. But I don't think I can carry on for much longer. Some of my colleagues are under a lot of stress and are already facing foreclosures."
Before it's here, it's on the Bloomberg Terminal.
LEARN MORE