Stallone Finds `Love' in Miami as Art Basel Ends on Strong Sales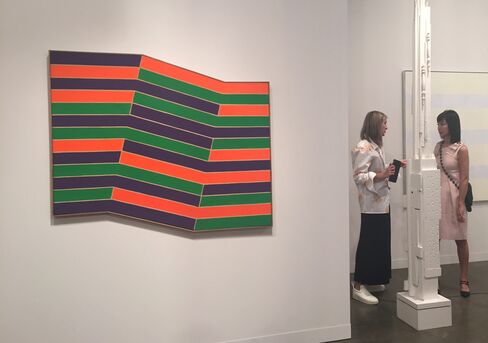 Torrential rain, stabbing incident didn't deter art collectors

Works in `sweet spot' of $50,000 to $750,000 moved quickly
Sylvester Stallone said he was going to "spend some cash" on art. Then the actor and collector purchased a "Love" sculpture by Robert Indiana at the celebrity-packed opening of Art Basel Miami Beach.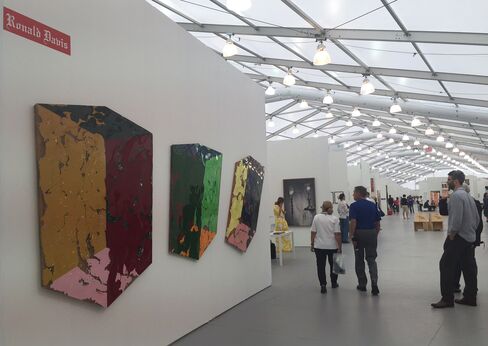 The asking price was $1.6 million, according to Galerie Gmurzynska, which offered the work. Stallone also picked up a group of four paintings by 78-year-old California artist Ronald Davis, priced at $300,000, at Untitled, an art fair in a tent on the beach.
"It was a very intuitive decision," Tim Nye, owner of Nyehaus gallery that had Davis's works, said about Stallone, who owns art by Claude Monet and Francis Bacon. "He walked in. The work grabbed him and he said 'yes."'
Fairs, Parties
Collectors grabbed art all over Miami, where more than 20 art fairs, dozens of gallery openings and countless parties were anchored by the $3 billion Art Basel Miami Beach. Neither torrential rain nor a stabbing incident diminished the shopping spree. Many galleries reported sold-out booths. A Bacon painting sold for $13.5 million at Van de Weghe Fine Art at the main fair, which ended Sunday and attracted 77,000 visitors, up by 4,000 from last year.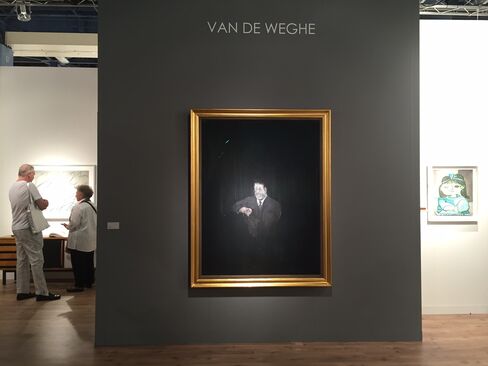 "The rain actually helped us," said Nick Korniloff, director of Art Miami, which reported record attendance. "When it rains people are not hopping from fair to fair."
Collectors were comfortable snapping up lower-priced works across the fairs, dealers and organizers said. At Art Miami, Waterhouse & Dodd gallery placed pieces by Sam Francis, Jean-Francois Rauzier and Theodoros Stamos totaling more than $450,000. Scott White Contemporary Art sold a Barbara Kruger photo engraving, priced at $450,000. James Barron Art sold several steel totems by 92-year-old artist Beverly Pepper, with prices from $67,500 to $250,000.
"In the sweet spot between $50,000 and $750,000, multiple, multiple works were moving," said Korniloff.
Picasso, Wool
At Art Basel, works above $2 million were met with resistance in a market some see as increasingly frothy.
"I'm bearish about the contemporary art market," James Chanos, president and founder of hedge fund firm Kynikos Associates LP, said at a Dec. 1 beach party organized by White Cube gallery.
Richard Gray Gallery placed more than a dozen works priced from $14,000 to $2 million, including a new painting by Jim Dine for $275,000 and a Cubist drawing by Pablo Picasso for $300,000, gallery director Paul Gray said. The gallery said its top sale was $2 million, for a small painting spelling "Fool" by Christopher Wool.
"There is not much activity above that, at least not for us," Gray said. "We worked hard to get the best possible things for the fair. That usually means that sellers want masterpiece prices. The bid-ask spread is a little bit wider."
Stella's Works
Fergus McCaffrey gallery sold three paintings by American artist Marcia Hafif, including a 1967 blue and red canvas for $90,000. The gallery also sold a 2015 Jack Early painting of a popsicle for $55,000. Dominique Levy gallery said it sold a 1965 painting by Frank Stella, with the asking price of $2.7 million. It was among many artworks at the fair by the 79-year-old artist. Sperone Westwater gallery said it sold a Stella mixed media on cast aluminum with the asking price of $600,000.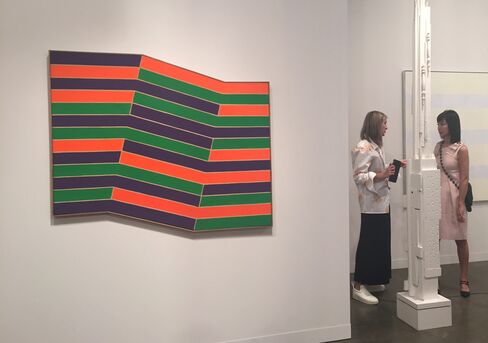 The most talked-about event wasn't art. On Dec. 4, a woman stabbed a female patron at the fair in the convention center, said Melissa Berthier, a spokeswoman for the city of Miami Beach. The assailant was arrested by police and the victim has been released from the hospital, Berthier said.
The New Art Dealers Alliance's fair, which focuses on lower-priced works by emerging artists, was packed with collectors on Dec. 3. Multiple galleries reported sold-out booths within three hours. New York collectors Zoe and Joel Dictrow said they bought artworks by Alex Dodge, Ruby Sky Stiler and Alice Mackler, all priced at less than $20,000.
More Time
Collectors weren't in a frenzy to pull the trigger, even at lower price points.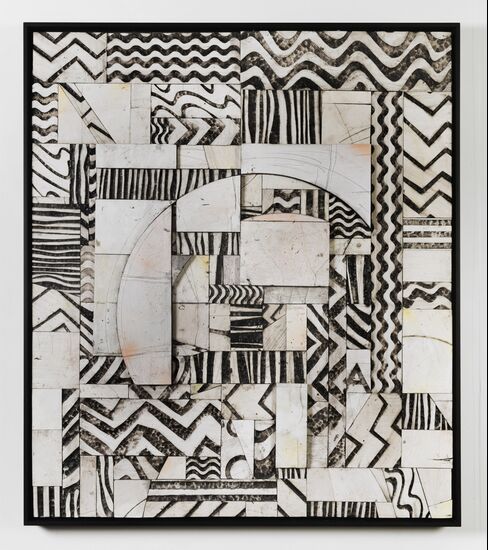 "People are taking a little more time and thinking about what they are acquiring," said Helen Toomer, director of Pulse Contemporary Art Fair, held in a tent on the beach. "Gallerists are doing a lot of follow-ups but the sales are happening."
Morten Poulsen, owner of Gallery Poulsen, based in Copenhagen, said his booth at Pulse didn't see much action at the start of the week but then "it was wild." He said he sold 19 works by seven artists at prices from $1,000 to $20,000 by Dec. 4.
Another collector who paused was Rosa de la Cruz, whose private foundation was among the must-see venues during the week.
"I didn't get anything up to now," de la Cruz said in an interview at the foundation on Dec. 4, surrounded by large-scale paintings by Wade Guyton, Sterling Ruby, Sigmar Polke and Albert Oehlen.
Before it's here, it's on the Bloomberg Terminal.
LEARN MORE