Serco Slumps Most Since March as Earnings to Tumble in 2016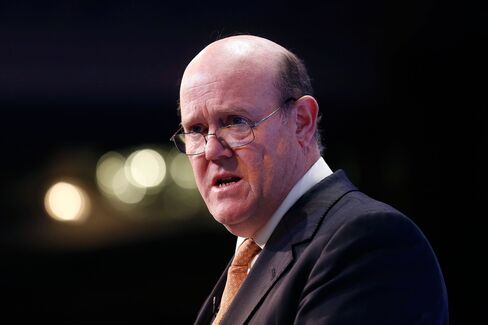 Trading profit may fall to 50 million pounds next year

Outsourcer to be hurt by contraction attrition, disposal
Serco Group Plc slumped the most in eight months after the U.K. outsourcing specialist said earnings may plunge almost 50 percent next year following a slowdown in the awarding of new contracts in Britain.
Serco stock fell 13 percent Monday, the steepest drop since March 12, after the Hook, England-based company said underlying trading profit will total about 50 million pounds ($75 million) in 2016, down from the 95 million pounds it estimates for 2015.
Chief Executive Officer Rupert Soames said bids have been held up by the U.K. general election in May and a review of state spending concluded last month. While the review produced a slew of potential new contracts, such as nine prisons and outsourcing of defense services, the tenders won't produce "meaningful revenue" until 2017, he said.
"We've got to start rebuilding our pipeline," Soames said on a conference call with analysts. "It's been weak now for two years, but we are seeing signs of strong encouragement. We've been trying to get more disciplined in our bidding and the margins that we take."
Serco shares traded 6.7 percent lower at 106.70 pence as of 11:03 a.m. in London, valuing the business at 1.17 billion pounds.
Increased contract discipline resulted in the loss of some U.S. tenders, including a deal to manage a benefits center in Missouri which Serco had previously held. Profit next year will also be affected by September's agreed sale of Mumbai-based Intelenet, a specialist in business-process outsourcing.
Soames, CEO since June 2014, said about 50 million pounds of savings are being targeted next year, mainly in the U.K. business, following 25 million pounds in cuts in 2015 as Serco exits unprofitable contracts, shrinks overheads and streamlines operations.
Before it's here, it's on the Bloomberg Terminal.
LEARN MORE