Keurig to Go Private in $13.9 Billion Buyout Led by JAB
Deal carries record-setting premium for beverage industry

JAB aiming to become the Budweiser of coffee, analyst says
Keurig Green Mountain Inc. will be acquired by a JAB Holding Co.-led investor group for about $13.9 billion in cash, bringing a windfall to shareholders after more than a year of watching the stock get battered.
Keurig, a maker of single-serve coffee brewers, will be privately owned and independently operated following the buyout, according to a statement Monday. The purchase price of $92 a share is 78 percent higher than the company's closing price on Friday. When compared with the stock's 20-day average, the premium is 89 percent -- the largest in beverage-industry history for any acquisition above $5 billion, according to data compiled by Bloomberg.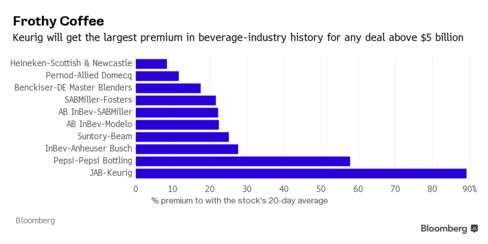 The deal provides a bounty to investors after weak results and dimming growth prospects weighed on the stock this year. Keurig has suffered from waning sales of its K-Cup containers and lower prices on brewers. And a new cold brewer is rolling out more slowly than expected. The strong dollar also is hampering international sales.
Even with the record-setting premium, the deal's valuation is only about 12 times the trailing year of earnings before interest, taxes, depreciation and amortization. That makes it relatively cheap and shows how far the stock has fallen, said Brian Holland, an analyst at Consumer Edge Research LLC. The timing of the purchase suggests that management was worried about future challenges, he said.
"I was surprised by an acquisition," Holland said. "Selling now implies that maybe there were more mounting headwinds."
Reimann Family
JAB is a closely held investment firm based in Luxembourg that manages the $16 billion fortune of Austria's Reimann family. It's run by a trio of seasoned consumer-industry executives who are plotting a challenge to global leader Nestle SA in the coffee industry. JAB owns a controlling stake of Jacobs Douwe Egberts, Peet's Coffee & Tea, Caribou Coffee, Einstein Noah Restaurant Group, Espresso House and Baresso Coffee. Its holdings outside of food include Jimmy Choo shoes and Coty fragrances.
JAB's goal is to be the Budweiser of coffee, Pablo Zuanic, an analyst at Susquehanna International, said on Monday. The conglomerate may follow with other deals, such as a takeover of Dunkin' Brands Group Inc., he said.
"JAB knows what they are doing and this is obviously part of a much, much bigger strategy," Pablo Zuanic, an analyst at Susquehanna International Group, said on a conference call. "Just like you've seen Anheuser-Busch InBev consolidate beer, they want to consolidate coffee."
Keurig shares had been down 61 percent this year through the end of last week. They jumped 72 percent to $88.89 at the close of trading in New York after the buyout was announced.
Independent Management
The board of Waterbury, Vermont-based Keurig unanimously approved the deal, which is expected to close during the first quarter of 2016.
"Keurig Green Mountain will operate as an independent entity to ensure it will further build on its coffee and technology strength," Bart Becht, JAB's chairman, said in the statement. The company's management team, which is currently led by Chief Executive Officer Brian Kelley, will continue to run Keurig.
The plan to go private follows a dramatic rise and fall for Keurig, a pioneer of single-serve coffee brewers. The surging popularity of its device, which allowed consumers to brew one cup of java at a time, sent sales and profit soaring in the past decade. In February 2014, Coca-Cola Co. agreed to buy a 10 percent stake in the company for about $1.25 billion, betting that Keurig could repeat its success with a cold-beverage maker.
Keurig Kold
But that product, the Keurig Kold, is only being released on a limited basis this holiday season -- a slower rollout than investors had anticipated. And the reaction to the device has been underwhelming, according to Stifel Financial Corp. That has raised concerns that it will become a niche product. At the same time, demand for its hot brewers and K-cups -- the pods that go into the machines -- has slowed. That's left the company without a reliable growth engine.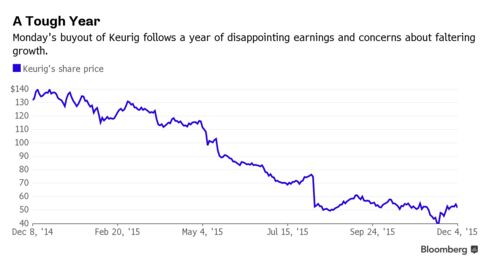 Minority investors in the JAB group include Mondelez International Inc. and affiliates of BDT Capital Partners. Keurig consulted with Bank of America Corp. and Credit Suisse Group AG on the deal.
Mondelez, the snack giant that owns Oreo and other household brands, owns a 44 percent stake in Jacobs Douwe Egberts, or JDE. It will exchange a portion of that ownership for equity in the new Keurig venture.
Keurig has partnerships with Starbucks Corp., Dunkin' and other companies, which put their brands on K-cups. One question now is whether the JAB buyout will jeopardize those deals, Zuanic said. JAB's brands, such as Peet's and Caribou, compete with Starbucks and other coffee chains. That makes it unclear if partners like Starbucks will stick around, he said.
Coca-Cola, meanwhile, built its stake in Keurig to about 17 percent, spurring talk in the past that the beverage giant might acquire the business outright. Coca-Cola said in Monday's statement that it supported the transaction. It also expects to make a small profit on the investment, recording a gain of about $25.5 million.
"We have enjoyed a strong partnership with Keurig Green Mountain, and will continue our collaboration with JAB," Coca-Cola CEO Muhtar Kent said.
Before it's here, it's on the Bloomberg Terminal.
LEARN MORE