BTG Said in Talks to Sell $5.8 Billion Credit Portfolio
Partners said to spend weekend in talks with other banks

Firm said to have no short-term debt maturing anytime soon
Grupo BTG Pactual SA is in talks to sell a 22 billion-real ($5.8 billion) credit portfolio to some of Brazil's biggest banks, one component of the firm's attempt to unload assets to shore up cash after the arrest of its founder last month, a person with direct knowledge of the matter said.
BTG's total loan portfolio is 43 billion reais and about half are guarantees that can't be sold, the person said, asking not to be identified discussing internal matters. Partners of the Sao Paulo-based firm spent the weekend in talks to sell assets including the loan portfolio, the person said, adding that the company has no short-term debt maturing anytime soon, so it can take time to make sure it obtains a fair price for the assets.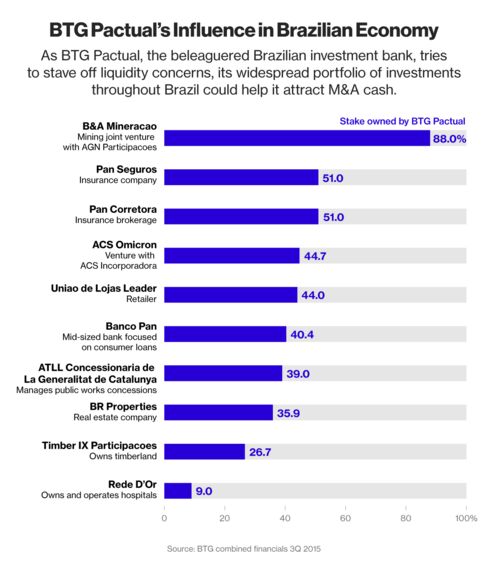 The firm got breathing room last week with a 6 billion-real line of credit from the nation's privately backed deposit-guarantee fund, Fundo Garantidor de Creditos, or FGC.
BTG has been reeling since Nov. 25, when then-Chairman and Chief Executive Officer Andre Esteves was arrested on suspicion he tried to obstruct a nationwide corruption probe involving the state-owned oil company, Petroleo Brasileiro SA. Esteves has denied the allegations through his attorneys. Concern that BTG will struggle to recover after the loss of its charismatic billionaire founder has sent BTG's shares and bonds tumbling as investors pulled funds and the firm's ratings fell to junk.
BTG last week named Mark Maletz, one of its independent directors, to chair a committee that will "investigate the matters arising from the Andre Esteves event," Chairman Persio Arida said in a Dec. 4 letter to clients. The company said it plans to name an auditor and a law firm in coming days to work with it on the internal probe.
An official at BTG declined to comment on asset-sale talks. The Financial Times reported Sunday that the credit portfolio was 50 billion reais.
Other assets that may be sold include stakes in Swiss asset-manager BSI, retailer Uniao de Lojas Leader SA, physical-fitness chain Bodytech Participacoes SA and distressed-asset-management firm Recovery do Brasil, BTG said in a regulatory filing Friday. The firm last week sold a stake in Rede D'Or Sao Luiz SA, Brazil's biggest hospital chain, for 2.38 billion reais.
The nation's central bank has been working closely with BTG through the crisis and helped it obtain the FGC rescue line-of-credit, a person with direct knowledge of the matter said Friday.
Yields on the company's $1 billion of 2020 dollar notes had more than tripled in a little more than a week to 22 percent on Thursday, then recovered to about 17 percent Friday after the FGC announcement. The yield climbed to 17.8 percent Monday. The shares slid 7.7 percent Monday to 17.92 reais, the lowest since BTG went public in April 2012. The decline brought the stock plunge to 42 percent since the day before Esteves was arrested.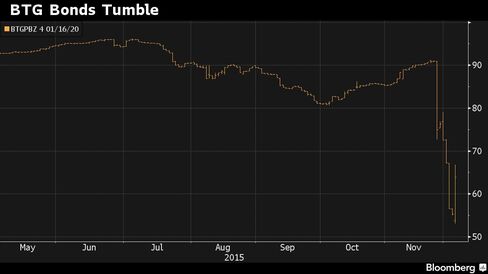 Goldman Sachs Group Inc. cut its 12-month price target to BTG to 23.7 reais from 30.2 reais on Monday.
"The near-term outlook continues to be uncertain, with concerns over BTG Pactual's liquidity position," Goldman Sachs analysts wrote in a report to clients. The firm expects BTG to have a cumulative funding gap of 1.6 billion reais in the fourth quarter, which will increase to 11 billion reais in the first nine months of next year assuming none of its funding sources are rolled over.
The government is following the situation closely and sees the company's asset sales and steps to boost liquidity as satisfactory, a member of President Dilma Rousseff's economic team said Friday, asking not to be identified because the matter isn't public. Rousseff's economic team believes BTG's owners have to resolve the situation, not the government, the person said.
Before it's here, it's on the Bloomberg Terminal.
LEARN MORE