South Sudan Rebels' Peace Trip Stalls on Air-Ticket Costs
Insurgents' return part of process to end two-year civil war

Rebel says they've asked international mediators to cover cost
South Sudan's rebels say they'd love to return to the capital after months of talks at high-end hotels in foreign countries and join a government to end a bloody civil war. They just can't afford the 550 plane tickets.
Transporting such a large pack of insurgents back to government-controlled Juba to enact a transition plan is expensive and they're asking East African mediators as well as nations including the U.S., U.K. and Norway to help out, rebel spokesman William Gatjiath Deng said by phone.
"Our team is a huge number and each ticket costs almost $200," Deng said Friday from Ethiopia's capital, Addis Ababa. "We are still negotiating with them. We are asking them to share the cost." He said the country's United Nations mission has also been asked to provide logistics.
It's a further delay for a peace process that's gone on almost as long as the two-year conflict and packed out luxury hotels in neighboring Ethiopia with rebel and government delegates. The first year of talks cost European Union donors more than $22 million, according to unidentified diplomats cited by Agence France-Presse.
Tens of thousands of people have been killed in oil-producing South Sudan and over two million forced from their homes during the war that began in December 2013. Under an August pact, rebel leader Riek Machar will return as President Salva Kiir's deputy for the 30-month period leading to elections.
UN Mission
The UN mission in South Sudan said it hadn't been asked to transport the rebel delegation. Norwegian Ambassador Tone Tinnes said their Juba mission hadn't received information of any transport request. The U.S. and U.K. embassies didn't immediately respond to requests for comment.
South Sudan presidential spokesman Ateny Wek Ateny said by phone he was aware that rebels were having difficulties transporting hundreds of representatives. He said "the issue is the number" and that the government will only accept an advance team of as many as 50 people.
The conflict has only worsened living conditions for one of the world's poorest nations, where there are almost no paved roads outside Juba and at least half the population of 12 million lives in poverty.
Financial Ambitions
South Sudan can only achieve peace when the personal financial ambitions of its leaders are trimmed to fit the country's capacity, said Alex de Waal, executive director of the World Peace Foundation at the Fletcher School in Massachusetts.
"Unfortunately, the way the peace deal has been negotiated and structured, has not done anything to dampen the expectation that a peace accord involves a payoff for its signatories," he said by e-mail.
The rebel team is to be incorporated into national institutions countrywide in the transitional period. Rebels had said representatives would begin traveling from Dec. 1.
Information Minister Michael Makuei Lueth said Friday that the government has received an even longer list of members the rebels are proposing for the advance team.
"It's actually scary, of course -- where do we accommodate them?" he told reporters in Juba.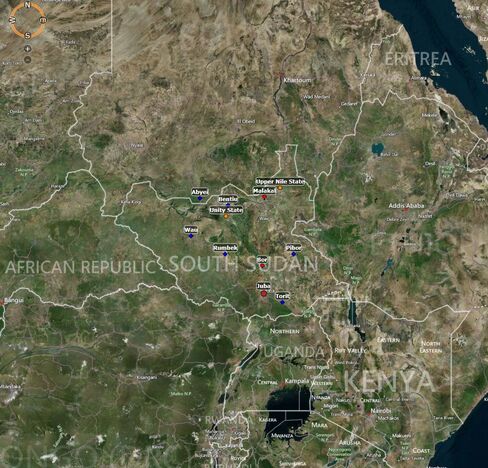 Before it's here, it's on the Bloomberg Terminal.
LEARN MORE