Redstone Competency Suit Reveals Larger Role for Viacom's Dauman
``Philippe is the caretaker,'' says investor Mario Gabelli

Aging billionaire owns controlling shares in Viacom and CBS
Viacom Inc. Chief Executive Officer Philippe Dauman chats with his boss Sumner Redstone several times a week and visits the 92-year-old in his Beverly Hills home every month. On Nov. 3, they watched a basketball game and discussed Redstone's ex-girlfriend Manuela Herzer.
"Sumner told me that Manuela has been threatening to litigate, and that all she wants is his money," Dauman said in a filing after Herzer sued on Nov. 25.
The complaint in California state court revived questions about Redstone's health, leading a major investor in the mogul's empire to demand details about his condition and prompting Viacom to publicly declare its executive chairman "mentally capable." The case also disclosed Dauman's growing influence over Redstone's affairs as speculation mounts about the future of Viacom and CBS Corp., companies he controls and that together are worth $42 billion.
Court filings revealed that Redstone signed a directive seven weeks ago giving Dauman sole control over his health care, including the right to decide if he should be fed or hydrated if Redstone can no longer make such decisions.
"To have the CEO as the health fiduciary of his or her boss is quite extraordinary," said Charles Elson, director of the John L. Weinberg Center for Corporate Governance at the University of Delaware. "I've never heard anything like it."
Normally, the role falls to a next of kin, said Kristine Knaplund, a professor at Pepperdine University School of Law. Herzer held the power under a previous directive, with Dauman serving as a back-up, and before that Herzer and another Redstone girlfriend, Sydney Holland, shared the responsibility.
The document underscores the bond between Dauman, 61, and Redstone. They've been friends and business partners since Dauman, a lawyer, began advising Redstone on takeover battles in the mid-1980s. Not only is Dauman head of Viacom -- which owns Paramount Pictures and a cable lineup that includes Nickelodeon and Comedy Central -- he's also on on the board of a trust that will govern Redstone's controlling shares in that company and CBS.
Mario Gabelli, the investor who called for more information about Redstone's health, said there are many unknowns about the future of Viacom and CBS in a post-Sumner world, such as what the family wants to do with the businesses. But he said one thing is clear: Dauman will play a major role.
"Philippe is the caretaker," Gabelli said.
Carl Folta, a spokesman for Viacom, declined to comment on the significance of the health-care directive, as did a spokeswoman for Redstone's daughter Shari Redstone, who is vice chairman of both CBS and Viacom.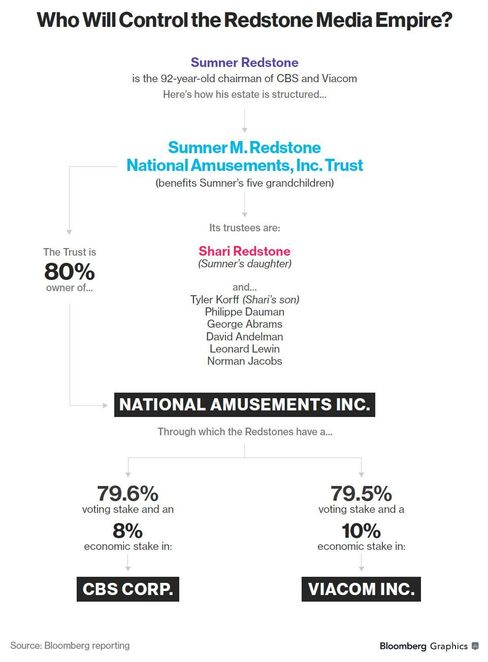 Redstone controls the companies through his ownership of National Amusements Inc. and will maintain his hold until he is incapacitated or dead, according to a filing CBS made with the U.S. Federal Communications Commission. At that time, trustees will take over. In addition to Dauman, the trustees are Redstone's grandson Tyler Korff, four lawyers with long-standing ties to the family, and Shari Redstone -- who owns 20 percent of National Amusements. Leslie Moonves, the CEO of CBS, plays no role.
Dauman is "pretty loyal to Sumner," said Sal Muoio, chief investment officer of New York-based S. Muoio & Co., one of the largest holders of Viacom voting stock. "If Philippe has any attributes, it's that he's loyal, straightforward and trustworthy."
Herzer's suit asks that Redstone be found incompetent to make his own decisions -- and that she be reinstated as his health-care agent. Herzer lived with Redstone until she was kicked out of his house on Oct. 12, and said he can't walk or stand by himself, is incontinent and requires suctioning to remove phlegm from his throat as many as 20 times a day.
Redstone's attorneys responded with testimony from his primary physician, Richard Gold, who said he visits Redstone twice a week. While the billionaire's speech is impaired, Gold said, he received a brain scan in November that "was quite good for a 92 year old."
Another doctor, geriatric psychiatrist James Spar, examined Redstone before he signed the health-care directive, saying he "retained the capacity to execute the estate planning documents," according to a court filing.
On Monday, California Superior Court Judge Clifford Klein sided with Redstone, saying he appeared to be under good care and there was no urgency to proceed with further evaluations. Klein tentatively scheduled a hearing for Jan. 27 on Redstone's request to dismiss Herzer's suit.
Herzer's attorney, Pierce O'Donnell, has denied claims that his client's interest is in Redstone's money as "demonstrably false," saying her concern is for his welfare. O'Donnell called Redstone "tragically incapacitated" and said Herzer "remains determined to fulfill her promise to serve as health-care agent for Sumner Redstone."
Before it's here, it's on the Bloomberg Terminal.
LEARN MORE