New Carbon Market Years Away Says Envoy Seeking Paris Allies
Lack of demand among hurdles to global emissions trade

NZ sees some nations pushing ahead with smaller market groups
The latest attempt to create an international carbon market will take about four more years and may prompt some countries to press ahead with their own emissions trading rules, according to New Zealand's climate minister, who's seeking to hasten talks on the subject at climate negotiations in Paris.
Hurdles to global emissions trading include tepid demand from developed countries preoccupied with cutting their own fossil-fuel use, as well as skepticism that markets can lower the cost of climate change, said Tim Groser, a 36-year veteran of international policy negotiations. Smaller groups of nations may make a head start on forming markets before a United Nations-led effort is agreed on, he said.
Groser is in Paris seeking to ensure that market-based options to combat global warming are included in the UN climate treaty for 2020 being negotiated this month. About half the 183 countries that have made emission pledges are considering markets to help fund greenhouse-gas reductions, according to the International Emissions Trading Association. Opponents say such programs fail to deter fossil fuel-burning quickly enough.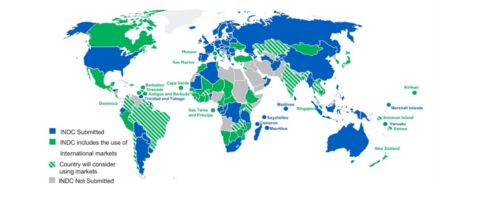 "It's not going to be done in the next two weeks," Groser said by phone from Paris. "What we're focusing on is some general principles such as minimum standards, guidelines and best practices. Ultimately this has all got to be devised over the next few years before the agreement comes into effect in 2020."
Groser likens the carbon market negotiations with the history of global trade talks. It took almost half a century for the World Trade Organization to emerge from the General Agreement on Tariffs and Trade signed by 23 nations in 1947.
In emissions markets, allowances or credits permitting the release of greenhouse gases can be issued through a combination of free allocations and auctions. That pool of permits shrinks over time to reduce emissions, and polluters with more allowances than they need can sell them to those who require more.
Market Cover
China, the U.S. and the European Union alone could create a transcontinental carbon market that would cover 56 percent of global emissions, according to a study written under a Harvard Kennedy School climate program. A market with 14 participants could cover 85 percent of emissions, according to the "Routes to an Ambitious Climate Agreement in 2015" report published in June.
http://www.bloomberg.com/graphics/2015-COP21-deal-watch/embed.html
The price of emission credits in a UN-overseen market formed under the 1997 Kyoto Protocol has slumped 98 percent since 2008 amid a glut as nations failed to encourage buying. In the European Union's emissions trading system, the world's largest cap-and-trade program, permits have fallen about 71 percent in the same period.
A carbon tax may be more effective in cutting emissions than markets, based on the EU's experience, according to Steven Chu, a physics professor at Stanford University and a former U.S. energy secretary. Taxing greenhouse gases "gives much more certainty to industry, to businesses, so they can plan," he said by phone.
Umbrella Group
The informal Umbrella Group of nations involved in UN climate talks - Australia, Canada, Japan, New Zealand, Kazakhstan, Norway, Russia, Ukraine and the U.S. - "fundamentally" understand the importance of markets, Groser said. Not all nations will use carbon trading immediately as they focus first on cutting fossil fuels from their power industries, he said.
Having a smaller group of countries set the rules would probably lower the risk that markets get used as a bargaining tool by UN climate envoys in negotiations, said John Carnegie, the manager of energy and environment at lobby group BusinessNZ.
"We are going to pull all this together," said Groser, referring to the 40 existing carbon markets, the developing-nations keen to win finance via markets and the lack of immediate demand for greenhouse gas credits.
Some envoys and green groups still argue against the use of markets to curb global warming, he said, without being specific.
"There are people -- many of whom are in developed countries, not just extreme developing-country voices -- that have got a fundamental ideological problem with the use of markets in climate protection," Groser said.
Countries such as New Zealand that have largely decarbonized their power industry want access to markets in order to make ambitious emission cuts by buying credits generated elsewhere, Groser said.
The latest draft UN climate text published Friday includes options allowing nations to transfer emission cuts.
Before it's here, it's on the Bloomberg Terminal.
LEARN MORE