Madoff Victims Get $1.2 Billion in Sixth Ponzi Scheme Payout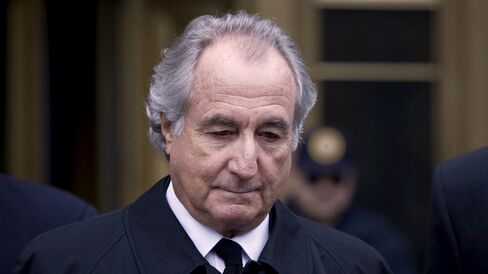 Payments come seven years after collapse of massive swindle

Funds freed when U.S. Supreme Court refused to hear appeal
Bernard Madoff's victims will have a bit more to spend on holiday gifts this year as the trustee unwinding his fraud begins sending out a total of $1.2 billion in recovered funds, with checks averaging $1.1 million each.
The biggest payout to victims in more than three years comes a week before the anniversary of Madoff's Dec. 11, 2008, arrest, when thousands of retirees, charities, investment funds and other clients discovered they'd lost $17.5 billion in principal to his decades-long Ponzi scheme.
The distribution, which starts Friday, boosts victims' recoveries to $9.16 billion, or about 57 percent of the cash they lost, trustee Irving Picard said in a statement. Checks will range from $1,298 to $202 million, he said, and when the payout is complete almost 1,300 victims will have recovered their investments. It's the sixth distribution of funds. In 2012, Picard doled out payments totaling almost $5 billion.
Elisa and Edwin Schwartz, Madoff victims in Inverness, California, said they've been pleased with Picard's efforts after watching part of their nest egg go "down the drain" seven years ago. The couple, now 76 and 82 years old, had planned to use their Madoff account to supplement their retirement.
"We didn't expect to get anything back, so the fact that we've gotten something is nice," Elisa Schwartz said. "We're trying to help our kids and our grandchildren in college -- those are the things we wanted to use the money for."
"We're old. I always felt they should have put the old people first," she said, calling that her only complaint.
Picard said in a statement that the payouts "exceed similar efforts related to prior Ponzi scheme recoveries, in terms of dollar value and percentage of stolen funds recovered." He said he'll send $320 million more after pending litigation is resolved.
Victim Fund
The U.S. Justice Department hasn't yet paid anything from its $4 billion Madoff Victim Fund, including proceeds of a forfeiture agreement with one of Madoff's biggest customers. The fund, overseen by former U.S. Securities and Exchange Commission Chairman Richard C. Breeden, has been analyzing tens of thousands of claims since at least December 2012.
A spokeswoman for U.S. Attorney Preet Bharara in New York, who prosecuted Madoff, declined to comment on the forfeiture process. A call to the Madoff Victim Fund wasn't immediately return.
Madoff pleaded guilty in 2009 and is serving a 150-year sentence. A jury last year convicted five of his top aides for their roles in the swindle.
High Court
Friday's distribution was made possible after the U.S. Supreme Court refused in October to hear an appeal from victims who argued that they should receive interest on their losses. Customers who invested with Madoff for years believed they had a combined total of about $64 billion, including profit from securities trading that never actually occurred.
The drawn-out nature of the case is normal considering the amount of money recovered, said Richard Scheff, a former federal prosecutor who wasn't involved in the Madoff litigation.
"There are thousands of victims, thousands of transactions to sort out, and you've got to get it right," Scheff said. "The trustee has taken aggressive positions to recoup money and has largely been successful battling in the courts of appeals."
The liquidation is Securities Investor Protection Corp. v. Bernard L. Madoff Investment Securities LLC, 08-bk-01789, U.S. Bankruptcy Court, Southern District of New York (Manhattan).
(An earlier version of this story was corrected to accurately show the size of the Justice Department's fund for Madoff victims.)
Before it's here, it's on the Bloomberg Terminal.
LEARN MORE