Hedge fund sees Fed raising interest rates on Dec. 16

Says trading strategy may thrive amid policy divergence
Brevan Howard Asset Management, the investment firm hurt over the past two years by slumping returns and shrinking assets, says a comeback is at hand.
Europe's biggest macro hedge fund is counting on a Federal Reserve interest-rate increase to set off the type of market turbulence that presents trading opportunities, the kind that have been absent as policy makers kept borrowing costs near zero.
"For us, it has not been a great environment," said Nagi Kawkabani, Brevan Howard's co-founder and senior trader, in an interview at the firm's London offices last week.
Kawkabani said his investment team is confident the Fed will raise borrowing costs for the first time in almost a decade on Dec. 16, creating a policy divergence with other central banks and fertile ground for trading gains at the $24.4 billion firm. Brevan Howard's assets have dropped from a peak of $40 billion in 2013 as it closed more than half a dozen hedge funds, returned $2 billion from its main fund to investors and took in less cash, he said.
"The Fed is back in play," said Kawkabani, 58. "That means our opportunity set is far better."
BlueCrest, BlackRock
The firm, led by billionaire Alan Howard, cut jobs as returns stumbled. Michael Platt's BlueCrest Capital Management -- long Brevan Howard's main macro rival -- is going further. The $8 billion hedge fund said Tuesday it will return all client money and focus on managing the wealth of Platt, 47, and his employees after billions of dollars in withdrawals and poor returns.
The two firms, which seek to profit by betting on macro-economic trends, aren't alone in feeling the pressure. BlackRock Inc., the world's largest asset manager, Fortress Investment Group LLC and Bain Capital have also shut down macro hedge funds after losses and as redemptions eroded assets.
Brevan Howard's flagship Master Fund had its first annual loss in 2014. Last month, it climbed 2.4 percent, bringing the return so far this year to 1.9 percent, said a person with knowledge of the matter. A spokesman declined to comment.
The Eurekahedge Macro Hedge Fund Index rose 2.6 percent in the first 11 months of the year.
The rough patch follows a decade of out-performance. Since starting in 2003, the Master Fund gained more than 200 percent through the end of October, beating the Eurekahedge macro index and the Standard & Poor's 500.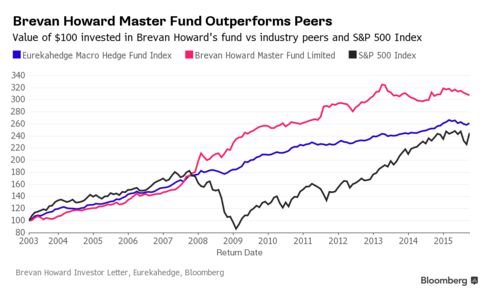 At least seven partners left this year, including Mark Hillery and Gertjan Vlieghe, and the firm reduced headcount by about 15 percent to 370 employees. About $5 billion also exited the firm when its affiliate manager, DW Partners, separated in January.
"The issue has not been a pick-up in redemptions," Kawkabani said. "The reduction in assets has been more about not raising as much money as in previous years."
The firm has taken in $2 billion in fresh capital this year, less than half the amount it raised in years past, he said. Overall, assets under management have declined by about $3 billion in 2015.
That's as investors added money to macro funds on a net basis in the first 10 months of this year, after pulling cash last year, according to Eurekahedge.
Brevan Howard's asset decline comes as Chris Rokos, a co-founder who left in 2012, started his own hedge fund at the end of September. Scott Bessent, who oversaw George Soros's $30 billion fortune, is starting Key Square Group, a macro fund that will manage $2 billion from Soros as well as money from other investors.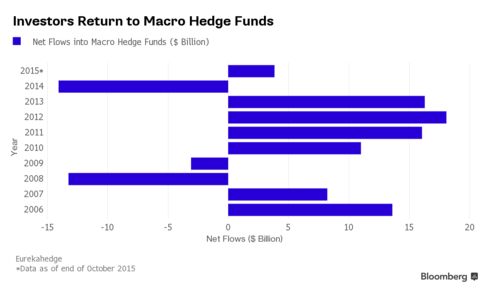 Michele Gesualdi, chief investment officer at Kairos Partners in London, predicted Brevan Howard will bounce back. Kairos was one of the firm's largest outside investors when Howard and four co-founders, all from Credit Suisse First Boston's proprietary fixed-income trading desk, started the hedge fund.
"The current internal re-focusing of the group, the reduction in assets under management and potentially a larger influence from Alan could be vital elements to improve performance," said Gesualdi, who doesn't currently invest in Brevan Howard funds.
Happy Traders
Howard, 52, who moved to Geneva in 2010 when the firm opened an office there, declined to be interviewed for this article. Kawkabani said Howard has no plans to leave the Swiss city in the foreseeable future or close the office there.
"The mood in the firm remains very positive," he said. "As long as traders' individual P&Ls are good, they are happy."
Over the last year, hires include traders Scott Eichel and Michael Lyublinsky from Royal Bank of Scotland Group Plc, Pravin Mouli from Barclays Plc and Roberto Hoornweg, the former global co-head of fixed income, currencies and commodities at UBS Group AG.
Brevan Howard divides its assets among its roughly 60 traders, although the top 10, led by Howard, dominate the investments. The arrangement reduces the "key man" risk investors face if a fund is led by one individual, and traders are rewarded based on the returns they generate rather than the performance of the whole fund.
"If a single trader was sitting in Mayfair with five assistants, I don't think we would be managing $25 billion," Kawkabani said.
Before it's here, it's on the Bloomberg Terminal.
LEARN MORE