Calling All Tween Girls: Claire's Wants You Back, Desperately
Apollo-owned chain goes beyond ear-piercing to lure customers

Debt burden from 2007 buyout may be too onerous, analysts say
It may take more than Posh Pear and Rockin' Broc to reverse the fortunes of tween jewelry seller Claire's Stores Inc.
The ear-piercing chain, with about 2,900 stores worldwide, is trying to make itself "cool and front of mind," according to Chief Executive Officer Beatrice Lafon. It's hosting girls' birthday parties. It's partnering with Dylan's Candy Bar, created by the daughter of fashion mogul Ralph Lauren. It's offering merchandise that features pop stars Katy Perry, One Direction and 5 Seconds of Summer and the movies "Minions" and "Frozen." And it's selling the Shopkins toy fruit and vegetable characters -- Posh Pear, Rockin' Broc and their friends -- that are animated Internet sensations from Australia.
It may not be enough. The company's revival is threatened by a variety of obstacles: decreasing mall traffic, a strong dollar, the fickle tastes of its under-13 clientele and, especially, a debt burden from Apollo Global Management's 2007 buyout.
"This is the textbook unsustainable capital-structure example," said Charlie O'Shea, a senior analyst at Moody's Investors Service in New York. "An awful lot of things would have to go very, very right -- you would have to see planets align within millimeters of each other -- for this to work itself out from a normal operating perspective." Moody's ranks Claire's debt Caa2, a very high credit risk.
Third-quarter sales dropped 5.1 percent from a year earlier to $332.7 million, the retailer said Dec. 1. The news pushed the price of the company's bonds further into distressed territory. Claire's, based in Pembroke Pines, Florida, faces about $370 million in debt maturities in 2017.
"The runway is getting shorter," said Evan Mann, a senior analyst at bond-research firm Gimme Credit.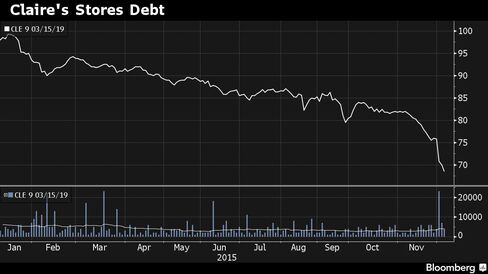 The looming maturity date may force Claire's into some kind of debt restructuring, O'Shea said. Jenna Giannelli, a credit analyst at Citigroup Global Markets in New York, agreed.
"When you think about the magnitude of decline that they've seen versus other retailers, it actually hasn't been as significant," Giannelli said. "They just started out with a really leveraged structure, and a really high cost of debt, so it gave them less wiggle room."
Hind Palmer, a Claire's spokeswoman, and Charles Zehren, a spokesman for Apollo at Rubenstein Associates Inc., didn't respond to requests for comment.
"We'll be in a position to deal with the 2016 maturities in due course," J. Per Brodin, Claire's chief financial officer, said during the Dec. 1 conference call.
Industrywide Challenges
Some of the retail woes afflicting Claire's and its 1,800 U.S. locations reflect challenges that are industrywide -- what Candace Corlett calls "the American consumer's pushback against stuff."
"Kids' spending money is going to their electronics, buying their music, eating out with their friends," said Corlett, president of New York consulting firm WSL Strategic Retail.
While the Internet has siphoned customers from Claire's, a push to expand online sales isn't a realistic solution for the retailer, O'Shea said. Shipping costs for its lower-priced products make it uneconomical, he said.
Lafon, who took over in May 2014, is trying to offset the decline in mall visitors by setting up wholesale agreements and concessions at other retailers. The company said it has about 700 concessions, many at Toys "R" Us stores, and said it plans to roll out more next year, including with new partners such as Tesco food markets.
The CEO is doing a good job of maintaining the chain's "cool" factor through merchandise that appeals to preteens and broadening into categories like mobile-phone covers and cosmetics, Citigroup's Giannelli said.
Pierced Ears
Claire's attracts customers for ear-piercing, an adolescent rite of passage, and once girls are in the stores they tend to spend money on other things, a trend that's "still at all-time highs," Giannelli said.
"It's just a matter of getting people in front of the product because they're not going to the mall as much," she said. "Is there a reason for it to exist? Without a doubt."
Even with successful initiatives, boosting sales enough in the next year isn't likely, Giannelli said, and the company is playing catch-up when it comes to cutting costs.
Apollo, led by billionaire Leon Black, bought the chain for $3.1 billion in 2007 as leveraged-buyout activity soared. Claire's managed to survive the retail shakeout that doomed other chains like Borders, Circuit City and Fortunoff. Linens 'n Things filed for bankruptcy protection in 2008, two years after being loaded with more than $1.3 billion in debt in a takeover by Apollo and other buyout firms.
In 2013, Claire's filed to raise as much as $100 million through an initial public offering, a plan that was shelved.
The retailer's $1.125 billion of 9 percent bonds due 2019 dropped to 69.25 cents on the dollar on Dec. 3, tumbling from as high as 99.25 cents in January, according to Trace, the bond-price reporting system of the Financial Industry Regulatory Authority. They yield about 23 percent.
Claire's had $2.37 billion of long-term debt at the end of October, and it's facing a 2017 maturity of $259.6 million 10.5 percent senior subordinated bonds and $111.3 million in revolving credit. The $259.6 million bonds become a current obligation in June, according to O'Shea of Moody's, and companies typically have a harder time refinancing current debt.
"The bond maturity will certainly be a catalyst for something," O'Shea said. "It doesn't seem like they're going to be able to right-size the capital structure in the next several quarters."
Before it's here, it's on the Bloomberg Terminal.
LEARN MORE