War on Plastics Will Be Won With Trees, Stora Enso CEO Says
Plant-fiber packaging to top plastics in a decade, CEO says

If someone wants to buy paper mills, ``I'm selling,'' he says
Europe's biggest paper maker has declared war on plastics.
Within a decade, packaging made from tree and plant fibers could overtake the petrochemical variety, according to Stora Enso Oyj Chief Executive Officer Karl-Henrik Sundstroem. The Helsinki-based pulp mill operator has already spent billions shifting from the declining paper business to focus on innovative wrappings.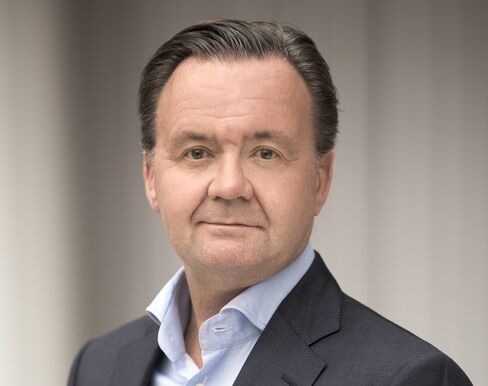 "Anything that you do with fossil-based materials, you'll be able to do out of a tree," Sundstroem said in an interview in Bloomberg's Stockholm office.
The $260 billion global plastic packaging industry depends on chemicals derived from fossil fuels, resources under pressure this week at United Nations climate talks in Paris. Pulp and paper makers say they can produce easier-to-recycle products from trees to replace plastic bags, containers and coatings.
Stora Enso last week opened an innovation center in Helsinki to be followed later this month by the inauguration of a larger research facility in Stockholm, signaling a bet future growth lies in packaging that is high tech or made from new materials.
Profit from Paper Dwindling
With Europeans increasingly switching to digital from newsprint, the company's profits from traditional paper making have dwindled from 62 percent of operating profit in 2006 to 5 percent so far this year.
"The mega-trends are not supporting newsprint paper," Sundstroem said. Instead, Stora Enso's researchers will be looking at a wide range of products that could potentially be made from tree-based materials including stronger, lighter packaging from nanocellulose and glues and carbon fiber from lignin, a polymer found in wood.
Stora Enso is in negotiations with major adhesive manufacturers and may sign its first commercial contract for lignin-based glue in the coming months, the CEO said.
European Bioplastics, an association representing 70 companies, forecasts global production capacity will increase four-fold by 2018 to about 6.8 million tons for bioplastics at least partly derived from plants. This compares with an estimated 20 million tons of regular plastics converted each year into packaging in the European Union.
Glue From Resins
While some specialty chemical companies like Corbion NV are focusing on bioplastics, the industry as a whole isn't. The world's largest chemical maker BASF SE, while producing polymers made partially from corn starch at a plant in Germany, has said oil and gas will be the most important sources of raw materials for their products for decades to come.
Stora Enso has already invested 32 million euros in the Sunila mill in Finland to produce 50,000 tons of lignin, which so far is mainly burnt for heat and energy. If the development proceeds according to plan, using resulting resins for glue could be "really big" for Stora Enso in five years, according to Sundstroem.
Created through a merger of Sweden's Stora AB and Finland's Enso Oyj in 1998, Stora Enso is shutting down or converting unprofitable paper mills. European demand for printing and writing paper has declined 4.5 percent this year with the drop double that for newsprint, according to industry tracker Euro-Graph.
No Paper Merger
"If someone wants to buy my paper assets for what they're worth, I'm selling," said Sundstroem, who previously headed the company's paper unit. "Unfortunately there are not a lot of buyers."
Two years ago, Stora Enso and rival UPM-Kymmene Oyj separated out their troubled paper operations into standalone units, fueling speculation of a merger between the two largest paper makers in Europe as a way to navigate the decline.
In the interview, Sundstroem poured cold water on the prospect. A drawn-out process of obtaining regulatory approval for such a combination would remove focus from growing other parts of Stora Enso's business as well as slow necessary cost cuts at the paper mills, he said.
Stora Enso shares have gained 23 percent this year, giving the company a market value of 7.3 billion euros.
Before it's here, it's on the Bloomberg Terminal.
LEARN MORE