Medtronic Sales Rise, Helped by Demand for Heart Devices
Adjusted earnings per share beat analysts' estimates

Fiscal second-quarter sales rise 6 percent to $7.06 billion
Sales from Medtronic Plc's most important business line, defibrillators and pacemakers to regulate the heart's electrical activity, rose in the fiscal second quarter, the company said.
Growth in the heart rhythm segment, aided by new monitoring and pacing products, has helped Medtronic regain its foothold after years of consolidation in the market for the the devices. Earnings, excluding one-time items, beat analyst estimates. Sales of new devices to help repair damaged heart valves also soared.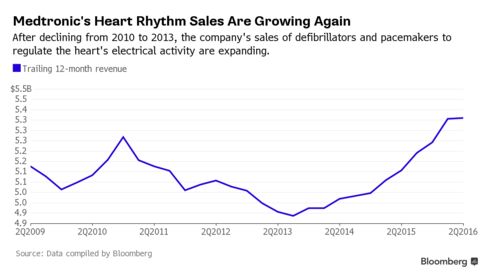 Medtronic raised the low end of its fiscal 2016 adjusted earnings forecast to $4.33 to $4.40 a share, from the $4.30 to $4.40 the company estimated in September.
Excluding certain items, profit for the quarter ended Oct. 30 was $1.03 a share, compared with the $1.00 average of analysts' estimates.
Sales were up 6 percent from a year before to $7.06 billion. That matched analyst estimates.
Net income for the quarter was $520 million, or 36 cents a share.


Medtronic's strategy for growth relies on three pillars -- expanding sales in emerging markets, showing insurers and governments that using the company's therapies can reduce costs for health-care systems, and bringing new products to market.
The company's newest devices, which are used repair the aortic valve and clear clogged arteries in the legs, posted the biggest gains for the quarter, rising 81 percent to $404 million. The increase also made the company's cardiac and vascular group, its largest, the biggest gainer for the previous three months.
This year, the company closed its $49.9 billion acquisition of Covidien Plc, which allowed Medtronic to move its legal address overseas and reduce its tax rate. The company has promised $850 million in cost savings from the combination.
Before it's here, it's on the Bloomberg Terminal.
LEARN MORE