Ask anyone to do some word association with Volvo, and they'll probably respond with such terms as "boxy," "wagon," "safe," and "Swedish."
"Sedan" and "sexy" are words historically unassociated with the long-suffering Scandanavian carmaker. It's trying to change that today as it unveils the S90, a new car shaped like a regular old car—albeit a fancy one. The S90 will compete with the blue-blood heavyweights of the luxury market—Audi's A6, BMW's 5-Series, and Cadillac's new CT6, to name a few.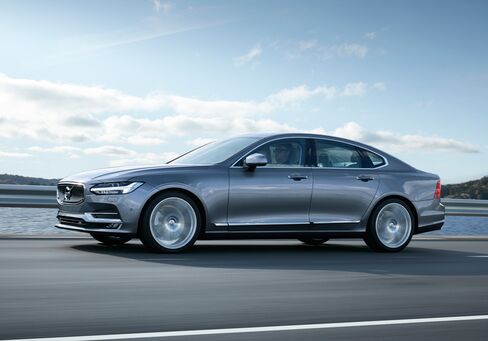 The standard format will be a hybrid, with a small gas engine working in concert with a battery-fed electric motor. Volvo has yet to release many of the specs, but it promised that the S90 has enough computing power for semiautonomous driving and a special system for detecting and avoiding moose.
The interior is striped with blond wood and studded with brushed-metal dials. An iPad-size screen anchors the center stack. The piece de resistance is Volvo's new headlights, which are modeled after Thor's hammer; if that isn't something to brag about in a prep-school parking lot, I don't know what is.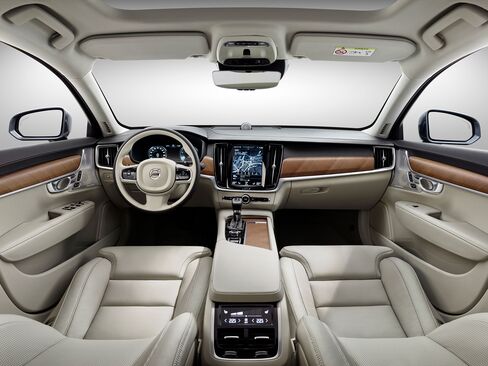 This particular machine marks an important milestone for Volvo. It's the first all-new sedan since Geely bought the brand from Ford in 2010 and pledged to overhaul the product line with an emphasis on Swedish engineering.
Volvo started that turnaround effort with an SUV, which was savvy. These days, a commanding view of the road and a Costco-capable cargo hatch are necessities for most drivers. And the company built a doozy in the XC90, which rolled into dealerships to rave reviews early last year. Through November of this year, Volvo sold almost 10,000 XC90s in the U.S., a 57 percent spike over the same period in 2013, when it was still pitching the older, Ford-designed version of the vehicle.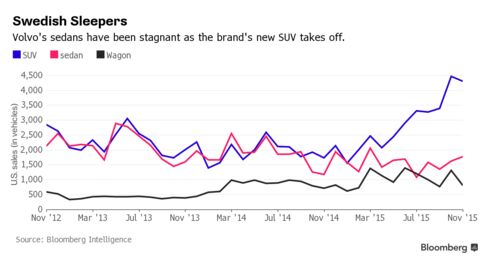 But at the same time, Volvo's sedans grew stale. In the past 12 months, the segment slipped from one-third of the brand's U.S. sales to roughly one-quarter. Does that matter? Yes and no. Volvo's future clearly rests on its stellar new SUV, and its past—the brand's DNA—is firmly rooted in wagons. But a large, curvaceous sedan is still a requirement in the luxury game, particularly in China. If Volvo is going to attract customers looking to spend more than $50,000 on a vehicle, it needs a machine like the S90—and it needs it to be very good.
Before it's here, it's on the Bloomberg Terminal.
LEARN MORE