Australia's Economic Growth Accelerates as Exports Rebound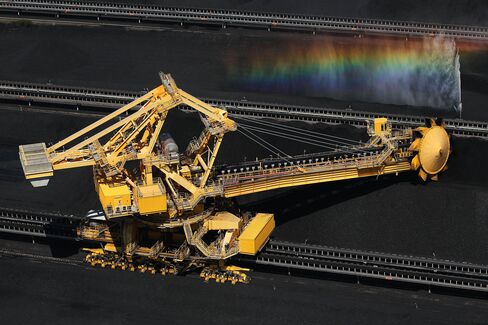 GDP growth of 0.9% in third quarter beats economist forecasts

RBA Governor Stevens says growth result is `not a bad outcome'
Australia's economy expanded at a quicker pace than economists forecast in the third quarter, driven by the fastest gain in exports since 2000, and supporting the central bank's decision Tuesday to keep interest rates steady.
Gross domestic product advanced 0.9 percent in the three months through September from the previous quarter, when it rose a revised 0.3 percent, government data showed Wednesday. That compared with the median of 28 estimates for a 0.8 percent gain. The picture inside Australia was a little less rosy than the headline, as domestic demand contracted by half a percent in the three months, the biggest decline since 2009.
The report spans a period when Australia's currency dropped almost 9 percent in response to record-low interest rates as the central bank sought to spur investment outside the resources industry. The GDP data was mainly a story of a recovery in export volumes that had been constricted by storms that shut ports in the second quarter.
"When you look at the composition of growth it was a little less encouraging," said Su-Lin Ong, head of Australian economic and fixed-income strategy at Royal Bank of Canada in Sydney. "We're very much stuck in that sub-par pace of growth at around 2.5 percent. I think this is where we're going to be for the next little while."
Exports Surged
The local dollar was little changed despite the stronger growth data and traded at 73.15 U.S. cents at 2 p.m. in Sydney from 73.25 cents before the release.
Exports surged 4.6% in 3Q; largest increase since the same quarter of 2000, adding 1 percentage point to GDP growth
Household spending rose 0.7% in 3Q, adding 0.4 point to the expansion


Reflecting the unwinding of resource investment, non-dwelling construction fell 5.3 percent, subtracting 0.4 percent from GDP growth while machinery and equipment dropped 4.6 percent, subtracting 0.2 percent.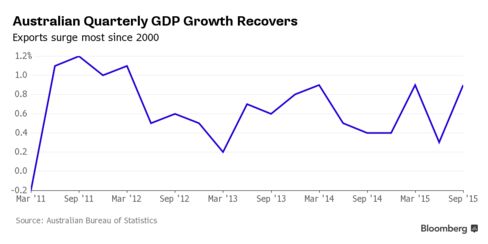 The nation's household savings ratio fell to 9 percent in the third quarter from 9.4 percent three months earlier, it showed.
Compared with a year earlier, the economy expanded 2.5 percent in the third quarter, the report showed. The median forecast of economists was for a 2.4 percent rise.
'Not a Bad Outcome'
Reserve Bank of Australia Governor Glenn Stevens, speaking in Perth, described the growth figures as "not a bad outcome" as they were slightly above what the RBA had expected. The outlook is for continued moderate growth and "you would still say that's the outlook based on this incremental bit of additional information," he said in answer to a question.
The nation's terms of trade, or export prices relative to import prices, dropped 2.4 percent from the second quarter and 10.5 percent from a year earlier, reflecting the continued decline in commodity prices.
"We are making a positive transition from the largest resources investment boom in our history to broader-based growth," Treasurer Scott Morrison said in a statement. "This transition will take time and there will be some challenges."
Stevens and his board kept the benchmark interest rate unchanged at 2 percent Tuesday for a seventh month, saying the economy was holding up pretty well given the scale of the unwinding of mining investment. The board reiterated that Australia's weak inflation provided scope to ease policy further should that be needed.
Traders are pricing in about a 50-50 chance of a rate cut by the middle of next year, according to swaps data compiled by Bloomberg.
"All of Australia's eggs are in the net trade basket," said Tom Kennedy, an economist at JPMorgan Chase & Co. in Sydney. "The central narrative in Australia has been increased pressure on national income and purchasing power from weaker nominal GDP."
Before it's here, it's on the Bloomberg Terminal.
LEARN MORE