Stereo maker said last week it's the target of takeover talks

Data show short interest in stock dropped after announcement
Denmark's iconic luxury stereo maker, whose top products are so expensive you need to be a hedge fund manager or a celebrity to own them, has put both long and short investors in limbo.
Bang & Olufsen A/S's announcement last week that it had received takeover approaches shocked the market and drove its shares more than 30 percent higher. But questions are now forming on how much a potential buyer might be willing to pay for the 90-year-old company and whether a deal will even go through.
"The longer it takes before we hear something, the more nervous the stock market may get," Ole Kjaer Jensen, head of share trading at Sydbank, said by phone. "The stock market is waiting for something more concrete."
So far, investors betting against B&O have had to retreat. Short interest in B&O fell to 6.8 percent of the company's free-floating stock at the beginning of the week, the lowest in three months and down from 7.4 percent on Nov. 26, the day B&O announced the takeover talks, according to data compiled by Markit and Bloomberg. Short interest in B&O hit a 2015 peak of 13.8 percent on Jan. 2.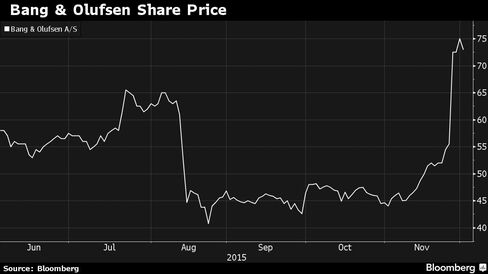 "While the stock's rise was mostly speculation of a takeover premium, there was probably also some short covering going on," Jensen said.
But to be sure, while short interest in B&O is declining, it's still higher than the average level of about 3 percent, according to Markit.
The practice of short-selling involves an investor borrowing a stock and selling it, acting on a bet that its market value will fall. If the bet pans out, the investor then repurchases the stock at a lower price, returns it to the source from which it was borrowed, and pockets the difference between the sale and repurchase price.
B&O has refused to say whether the takeover approaches were made by one or more parties and has also declined to identify any bidders. The company says it's not clear the talks will lead to a takeover.
Despite the lofty prices of its inventory -- you too can own a single BeoLab 90 speaker for a mere $35,000 -- analysts are split over what the whole of B&O might be worth. Nordea Bank says the initial 31 percent share gain means any takeover premium is now already priced into the stock.
Danske Bank says a buyer would need to offer more than 100 kroner a share, which is almost 30 kroner higher than its trading price on Tuesday.
According to Sydbank, the stock could fall as much as 33 percent if there's no takeover. But if a deal does go through, investors stand to gain as much as 34 percent, the bank estimates.
"The share price is probably now roughly at the level where it needs to be until we hear something more from the company," Jensen said.
Before it's here, it's on the Bloomberg Terminal.
LEARN MORE