Global equities rose on the first day of December, a month which has seen gains on all but five years since 1988. It's a glass half full day when it comes to China. An official manufacturing gauge sank to the lowest in more than three years. Investors are choosing to focus on a private survey which beat estimates, while the nation's services industry improved. Asian stocks rose as much as 1.8 percent. Last month the MSCI Asia Pacific Index fell for the first month in three, dropping 2 percent. There were no surprises when it came to policy decisions from the central banks of Australia and India. Both kept their benchmark lending rates unchanged.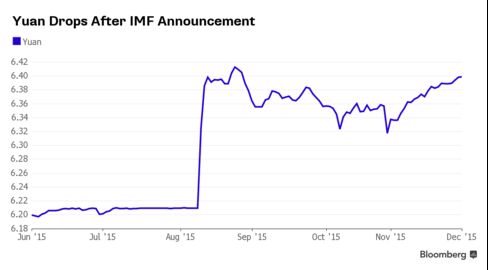 China's yuan slipped against the dollar in mainland and offshore trading after it was elevated to the IMF's basket of reserve currencies, a nod to its growing international credibility. The yuan will join the dollar, euro, pound and yen in its Special Drawing Rights basket with a 10.92 percent weighting, second only to the dollar and euro. Now that China has achieved reserve currency status, there are likely to be fewer central bank interventions, according to Barclays. It expects the yuan to weaken to 6.8 a dollar by mid-2016.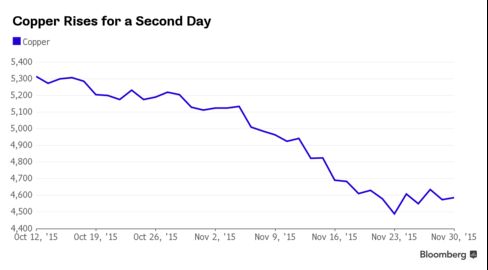 Copper clawed back some of November's 10 percent losses, the worst month since January. It wasn't alone. An LME gauge of six industrial metals has now sunk for seven consecutive months, the longest losing stretch since 2009. The worst might not be over for copper, which is languishing near a six-year low. Hedge funds are betting there's more pain in store as economic growth slows to the weakest pace in more than two decades in China, the world's top consumer. Citigroup isn't so bearish. It forecasts many commodity markets, including copper, may strengthen in the second half of 2016 as the collapse in prices shrinks production.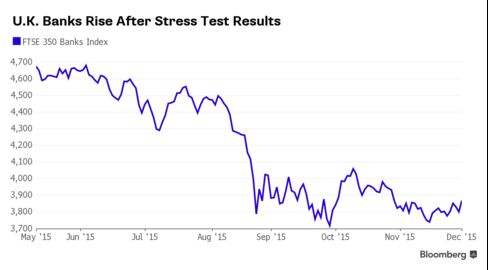 All seven major U.K. lenders passed the Bank of England's 2015 stress tests. Action taken by Standard Chartered and Royal Bank of Scotland mean they don't have to raise additional capital. Banks were tested on their resilience to shocks including a sharp slowdown in the Chinese economy, negative euro-area growth and plunging commodity prices. Under that scenario the industry's profits would have plunged by around 100 billion pounds ($150 billion), more than during the financial crisis. The FTSE 350 Banks Index has sunk 11 percent in 2015.
Mark Barton is a presenter on Bloomberg TV. Follow him on Twitter @markbartontv
Before it's here, it's on the Bloomberg Terminal.
LEARN MORE