Central Bank Must Heed Rate Cut Demand, Indonesia's Kalla Says
Bank independence has limits, vice president says in interview

Cutting borrowing costs vital to compete with neighbors: Kalla
Indonesia's Vice President Jusuf Kalla stepped up demands for lower Bank Indonesia interest rates to create jobs and boost economic growth, saying the authority was legally obliged to listen to the government's demands.
Kalla said easing inflation now meant the bank, which next meets Dec. 17, should loosen policy. He also dismissed concerns that government efforts to intervene in bank policy-making risked market confusion, after he and Bank Indonesia Governor Agus Martowardojo expressed differing views on rates last week.
"Bank Indonesia is not absolutely independent, but independent after consultation" with the government, Kalla said an interview in his office in central Jakarta on Tuesday. Kalla said the central bank was legally obliged to consider government priorities, in this case growth and employment, when considering its policies. "The law says it must," he said.
With economic growth at its slowest since 2009, the central bank has come under varying degrees of pressure from the government this year to cut rates, and Kalla has been the most strident voice. Bank Indonesia flagged last month there was room to ease monetary policy because of inflation, which fell within its target range in November for the first time this year, though most economists expect the authority to wait until after the U.S. Federal Reserve's December meeting.
Rupiah Stability
The central bank should stop using the impending Fed decision as an excuse to avoid a rate cut, Kalla said in a speech in front of the governor last week. Volatility in the rupiah, down 10 percent against the dollar this year, is among other factors weighing on policy makers. A 2004 revision to the central bank law states that Bank Indonesia has to consider government policies when carrying out its aim, which is stated as "safeguarding the stability of the rupiah."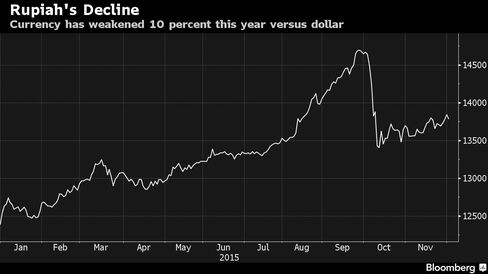 The potential weakening of the rupiah following any rate cut is not a concern, Kalla said.
BlackRock Inc., the world's largest money manager, sees scope for the rupiah to stabilize and for Indonesia to cut its benchmark rate because of the inflation data.
"Indonesia is a case in point where if the Fed lift-off comes alongside a dovish hike we actually see the possibility of a monetary easing cycle," said Neeraj Seth, head of Asian credit in Singapore at BlackRock, which oversees $4.5 trillion. Indonesia has come a long way on the "macroeconomic adjustment that was required" to exit from the "Fragile Five" list, he said.
Indonesia was identified by Morgan Stanley in 2013 as one of the five major emerging markets with the most vulnerable currencies along with Brazil, India, Turkey and South Africa.
Slower Lending
Indonesian businesses need lower borrowing rates, Kalla said. Faced with slumping exports and slowing consumer spending, the government in recent months has been trying to roll out economic reforms aimed at making it easier to do business and attracting foreign investment into Southeast Asia's largest economy.
"The government is consistent in improving infrastructure, consistent in improving the bureaucracy," Kalla said. "Now all that is left is financial costs. That is the most important thing."
Kalla said high borrowing costs in Indonesia compared with Vietnam, Malaysia and China meant that Indonesian businesses were unable to compete effectively with those countries.
PT Bank Central Asia, Indonesia's largest bank by market value, expects its loans will grow by less than 10 percent in 2016, slower than the 12 percent expansion seen this year, according to Chief Executive Officer Jahja Setiaatmadja.
"We cannot avoid the weak economic condition now and the consequence is NPLs will increase," Setiaatmadja said in a phone interview from Jakarta last week, referring to non-performing loans. "Once we think everything is okay, we can ask our branches to file out more loans."
Before it's here, it's on the Bloomberg Terminal.
LEARN MORE