Goldman Warns of Brazil Depression After GDP Plunges Again
First three-quarter drop since series begain in 1996

Investment tumbles 4%, family consumption declines 1.5%
Latin America's largest economy shrank more than analysts forecast, as rising unemployment and higher inflation sapped domestic demand, pulling the nation deeper into what Goldman Sachs now calls "an outright depression."
Gross domestic product in Brazil contracted 1.7 percent in the three months ended in September, after a revised 2.1 percent drop the previous quarter, the national statistics institute said in Rio de Janeiro. That's worse than all but three estimates from 44 economists surveyed by Bloomberg, whose median forecast was for a 1.2 percent decline. It also marks the first three-quarter contraction since the institute's series began in 1996, and a seasonally adjusted annual drop of almost 7 percent.
Economic and non-economic uncertainty "that has persisted for several months" continues to hurt the Brazilian economy, the Finance Ministry said in an e-mailed statement.
A sprawling corruption investigation has caused political gridlock in Brasilia, delaying President Dilma Rousseff's efforts to pass measures to fortify fiscal accounts and revive confidence. As the budget deficit has swelled, boosting threats of further sovereign downgrades to junk, the government Monday was forced to impose a partial shutdown, freezing discretionary spending. Meanwhile, the central bank has boosted borrowing costs to the highest since 2006, depressing demand and boosting unemployment, while failing to tame double-digit inflation.
"What started as a recession driven by the adjustment needs of an economy that accumulated large macro imbalances is now mutating into an outright economic depression given the deep contraction of domestic demand," Alberto Ramos, chief Latin America economist at Goldman Sachs Group Inc., wrote in a report Tuesday.
Swap rates on the contract due in January 2017 fell six basis points, or 0.06 percentage point, to 15.74 percent at 5:14 p.m. local time. The real fell 0.1 percent to 3.8821 per U.S. dollar.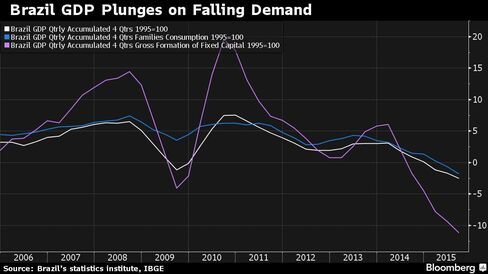 "It's a substantial hit coming not only from investment, which has fallen nine quarters in a row, but this year the big change is the substantial drop in consumption," Carlos Kawall, chief economist at Banco Safra and former Treasury secretary, said by phone from Sao Paulo. "We have not seen such a string of bad numbers for consumption."
Brazil's confidence levels are hovering just above their lowest levels in the past decade. Shoppers' sentiment plunged as the nationwide jobless rate reached 8.9 percent in September, more than two percentage points above the same month last year, and inflation surpassing 10 percent is eating into real wages. Family spending in the third quarter fell 1.5 percent after a revised 2.4 percent drop in the previous period.
"The idea that consumers might not have income to service debt in the years to follow I think is what terrifies them," Barclays Plc economist Bruno Rovai said by phone from New York before the report's release. "Even if there is a recovery of sentiment, we believe the labor market will continue suffering throughout the next year, and that will hold down household consumption."
Benchmark Rate
To slow consumer price increases, the central bank has nearly doubled the benchmark rate since 2013, to 14.25 percent. That's prompting companies to hold off on taking new loans as the state development bank also reduces subsidized credit. Investment fell 4 percent in the third quarter -- its ninth straight decline, according to the GDP report. Manufacturing contracted by 3.1 percent.
The investigation of kickbacks at state-run oil producer Petrobras is dimming the outlook for a better business climate and the government's fiscal accounts. The Nov. 25 arrest of the government's Senate leader for allegedly seeking to interfere with investigations has put Rousseff's economic agenda back on the sidelines, according to Andre Cesar, a Brasilia-based political analyst.
With her government struggling to win approval for austerity measures in Congress, Brazil had its sovereign debt rating cut at all three major ratings companies during the third quarter. Moody's and Fitch Ratings reduced Brazil to the lowest investment grade, while Standard & Poor's cut Brazil to junk after seven years of investment-grade ranking. S&P cited deterioration of Brazil's fiscal position, political challenges to shoring up government finances, and economic weakness.
There are two more quarterly contractions in store, followed by three of near stagnation, according to the median estimate of five economists surveyed by Bloomberg. Brazil's economy will shrink 3.19 percent this year and 2.04 percent in 2016, according to the median estimate of about 100 economists surveyed by the central bank. That would mark the first back-to-back recession since 1931.
At first read, the report recalls "an obituary," according to Andre Perfeito, chief economist at Gradual Investimentos, who revised his 2016 GDP outlook to a 3 percent plunge from a 2 percent drop after the data release.
"There is no room for any growth in the coming quarters," Perfeito said by phone from Sao Paulo. "The situation is really, really bad."
Before it's here, it's on the Bloomberg Terminal.
LEARN MORE