Reserve Bank of Australia Holds Rates at Record-Low 2%
Stevens reiterates that low inflation leaves scope to ease

Notes 'stronger growth' in employment, steady jobless rate
Australia's central bank extended its interest-rate pause for a seventh month as the labor market remains resilient and the economy expands steadily despite a plunge in mining investment.
Reserve Bank of Australia Governor Glenn Stevens and his board kept the cash rate at a record-low 2 percent Tuesday, as forecast by all 29 economists. The decision follows an improvement in consumer confidence and a jump in employment in October, suggesting there was no immediate need to add further stimulus.
"While GDP growth has been somewhat below longer-term averages for some time, business surveys suggest a gradual improvement in conditions in non-mining sectors over the past year," he said in a statement after the meeting in Perth. "This has been accompanied by stronger growth in employment and a steady rate of unemployment."
Policy makers reduced borrowing costs by 2.75 percentage points since late 2011 to bolster industries outside mining, which is about half way through the unwinding of an investment boom. While housing construction has surged in the low-rate environment, other firms have proved more reluctant to spend, and policy makers reiterated that low inflation gave them scope to ease if needed to support growth.
The Australian dollar was slightly higher and trading at 72.66 U.S. cents at 3:02 p.m. in Sydney from 72.56 cents before the rate announcement.
Net Exports
Data released earlier showed net exports contributed 1.5 percentage points to economic growth in the third quarter, encouraging some economists to lift their forecasts for gross domestic product data due Wednesday. GDP is forecast to have expanded 0.8 percent last quarter and grown 2.4 percent from a year earlier.
"The board again judged that the prospects for an improvement in economic conditions had firmed a little over recent months and that leaving the cash rate unchanged was appropriate," Stevens said. "Low interest rates are acting to support borrowing and spending."
Credit data released Monday showed lending to businesses rose 6.6 percent in October from a year earlier, the biggest gain in six-and-a-half years. The RBA maintains that the economy is traveling pretty well given the scale of the drop in mining investment, with the unemployment rate stabilizing at a little under 6 percent.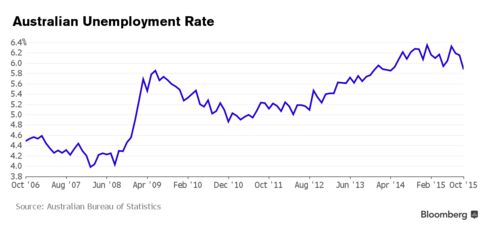 Since the RBA's November meeting, the Australian currency has been steady while prices of the country's largest export, iron ore, have fallen. The most-active iron ore futures in Singapore Monday sank below $40 a metric ton for the first time on concern that the economic slowdown in China will cut demand as supplies from the largest miners climb.
"The Australian economy is actually performing as well as we could hope in the middle of a structural economic slowdown in China," said Jasmin Argyrou, Aberdeen Asset Management's senior investment manager. "Low inflation does not provide reason to ease at this time but gives the RBA flexibility to respond should an unexpected shock occur."
Before it's here, it's on the Bloomberg Terminal.
LEARN MORE