Abengoa, the Teetering Sun King of Spain, Prepares for End Game
Banks, bondholders ready for battle to recover what they can

Company, creditors have until end of March to reach agreement
The world was struggling to recover from its deepest post-World War II recession and Spain was headed toward a European bailout, but Abengoa SA was flying high.
The then-Spanish King Juan Carlos traveled to Seville in September 2009 to christen the solar-energy company's new headquarters, designed by renowned architect Richard Rogers's firm. Aggressive growth plans helped Abengoa sell more than 1 billion euros ($1.1 billion) of bonds in a few months. A little while later, it won a $1.5 billion loan guarantee in the U.S. to build a solar plant in Arizona.
In the years that followed, Abengoa, founded as an electrical company in the Andalusia region more than seven decades ago, morphed into a global engineering giant. It wasn't just solar installations but power-transmission lines and water-desalinization plants.
The far-flung expansion, from Brazil to India, with each project raising financing as it went along, cloaked how much the entire operation was borrowing: too much, as it turned out. Even with world leaders gathered in Paris promising a climate-change deal likely to bolster solar operators, Abengoa is fighting to stave off what would be Spain's biggest corporate collapse.
"Investors stayed in because they thought that Abengoa was too big too fail," said George Kaknis, an investment analyst at LNG Capital in London.
Clock Ticking
Teetering for months, the company began to topple in November when a capital-raising plan fell through. Abengoa filed for preliminary creditor protection last week, setting the survival clock ticking. If it fails to reach an agreement with creditors before the end of March, it will have to file for full protection; in Spain, that process ends in liquidation in 90 percent of cases, according to rating company Axesor.
"I can't see how the company will manage to avoid a breakup," said Maxime Kogge, an analyst at Spread Research, an independent research firm, in Lyon, France. "It needs too much money to keep going and to finish projects that haven't been completed. I am very pessimistic."
So far, the company's connections to the highest echelons of the Spanish establishment didn't work to clinch a deal.
Royal Connection
Javier Benjumea, the founder of Abengoa, was made marquis by King Juan Carlos, an aristocratic title now held by his son. The company also has a long history of hiring former government officials, or relatives of officials, as board members. Bill Richardson, the ex-governor of New Mexico and a member of Bill Clinton's cabinet in the 1990s, now sits on the international advisory board of Abengoa Yield Plc, an independent unit spun off by Abengoa.
The parent company has 8.9 billion euros of gross debt; tabulating the total liabilities is complicated by its 607 subsidiaries, 17 associates, 28 joint businesses and 244 temporary joint ventures in more than 50 countries, according to a 2014 filing to the U.S. Securities and Exchange Commission.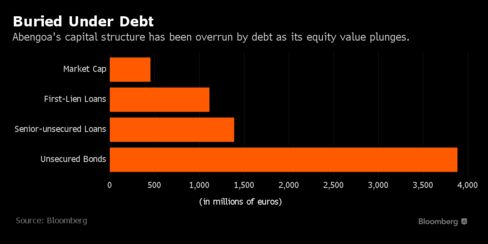 Creditors are readying for battle. Banks including Banco Santander SA and HSBC Holdings Plc hired KPMG and law firm Uria Menendez and met on Monday to start mapping out how much the company borrowed from them and assess how much is needed to avoid bankruptcy. Advisers Houlihan Lokey Inc. and Clifford Chance, appointed by bondholders including BlackRock Inc. and Centerbridge Partners LP, hosted a conference call on Tuesday.
While the company has faced higher taxes, declining energy prices and lower subsidies, the wheels began to come off in the second half of 2014.
Financial Engineering
Last November, the company suddenly reclassified some of its bonds, making its corporate leverage look lower, investors said at the time.
The move triggered concern that the securities -- issued by the Abengoa Greenfield SA unit -- would lose their corporate guarantee. Even though Abengoa confirmed that the notes were still protected, it sent investors to the exit. Its bonds collapsed, losing almost 20 percent of their value in two days.
Since then, Abengoa has struggled to retain lenders' confidence. Some investors refused to roll over debt with as little as one-month maturity.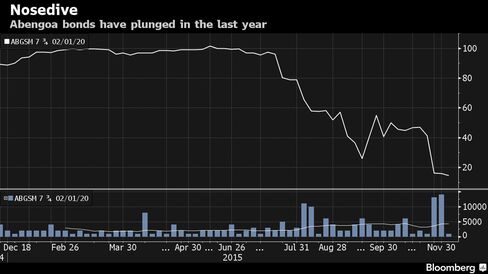 A campaign to improve communication and transparency ensued and the company clinched a deal with EIG Global Energy Partners LLC, transferring partially completed projects to a joint venture in March. It then sold 375 million euros of new bonds.
Diluting Bondholders
Abengoa surprised creditors again by saying it would change guarantees on its convertible and exchangeable bonds to align them with its high-yield securities in July. That diluted other junk bondholders' claims and added to confusion about the company's accounting methods.
As Abengoa fiddled with its debt securities, investors became increasingly agitated and demanded greater transparency.
Abengoa, which ran over-budget on some projects, cut corporate free cash flow estimates for 2015 by 800 million euros than previously forecast. On the morning of Aug. 3, it took everyone by surprise announcing a 650 million-euro capital increase after new chief executive officer Santiago Seage denied the company needed any more money in a three-hour conference call with investors three days earlier.
It took time to announce the details of the plan and iron out a new investment by Gonvarri Corporacion Financiera, a steelmaker, which would have taken control of the company. When Gonvarri walked away, Abengoa's Class B shares plunged 54 percent and its bonds were almost completely wiped out.
"The whole house of cards collapsed," said Antoine Bourgault, a London-based head of credit research at ISM Capital LLP, a merchant bank. "It will be very, very challenging to put the pieces back together in only four months."
Before it's here, it's on the Bloomberg Terminal.
LEARN MORE