There's Still a Place Where Phones Are Rare and Axiata Wants In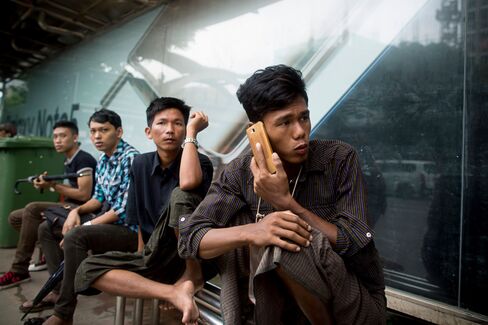 Myanmar is the least-covered wireless market in Asia

Edotco bought telecom towers to enter Myanmar market
Axiata Group Bhd. plans to invest as much as $200 million on telecommunications towers in Myanmar, one of the least connected places on the planet, as the Malaysian phone operator seeks to capitalize on the world's fastest-growing mobile market.
The company's Edotco Group Sdn. network infrastructure unit agreed last month to pay $125 million for a 75 percent stake in Digicel Myanmar Tower Co. to enter Myanmar. Edotco intends to invest another $100 million to $200 million in Myanmar within five to eight years, Chief Executive Officer Suresh Sidhu said.
"Myanmar is a huge opportunity," Sidhu said in an interview in Singapore last week. "We can really expect significant growth both in the mobile sector and the infrastructure sector."
Axiata, partly owned by Malaysia's Khazanah Nasional Bhd., joins Norway's Telenor SA in expanding in a market that researcher GSMA Intelligence projects will expand sixfold in mobile-phone subscriptions by the end of the decade. The Kuala Lumpur-based company's plan comes two years after it failed to get a license to sell mobile services in Myanmar when the nation opened up its wireless market.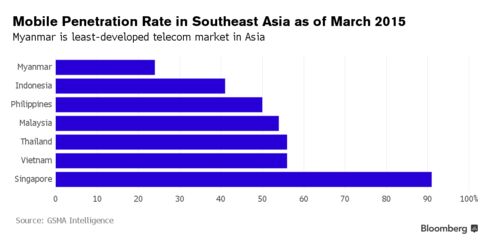 "The growth will be phenomenal," Nitin Soni, a director at Fitch Ratings in Singapore, said in an interview. "Where can you find a country where the customers haven't experienced mobile voice and data services compared to other countries?"
Edotco plans to increase the number of its towers in Myanmar to 5,000 in five to eight years from 1,250 currently, Sidhu said.
Myanmar has seen strong subscriber gains since the industry began opening up and will see the strongest revenue growth of any market, with a compound growth rate of 42 percent through 2020, according to GSMA Intelligence, which collects data in 237 markets. Its mobile penetration rate of 24 percent is the lowest in Asia.
Since Myanmar opened its telecommunications industry in 2013 with the entry of Telenor and Qatar's Ooredoo QSC, its mobile subscriber base has more than tripled to about 13 million at the end of March this year, according to a GSMA Intelligence report in July. Three operators currently provide mobile services in the country, including the former monopoly, Myanmar Posts and Telecommunications.
There are at least four other providers of telecommunications towers in Myanmar, including Singapore's Apollo Towers, which works with Telenor, and Pan Asia Towers, an independent operator, according to a report in the Myanmar Times.
Despite such opportunities, risks abound.
"Investors will have to thread with a bit of caution," Sachin Gupta, an analyst in Nomura Holdings Inc. in Singapore, said by phone. "Given the political dynamics of the country, there's always going to be a concern for the foreign guys."
Before it's here, it's on the Bloomberg Terminal.
LEARN MORE