Pre-MSCI Surge Bolsters Expensive Tag for Abu Dhabi's Best Stock
Etisalat shares trade at the highest P/E ratio in eight years

Telco to be included in MSCI's EM gauge from Monday's close
Emirates Telecommunications Group Co. surged to a 10-year high, adding to investor concern it's overvalued as it prepares to join MSCI Inc.'s emerging-markets index.
Shares of Etisalat, as it's known, jumped 10 percent on Monday, their last trading day before MSCI inclusion, extending the gain this year to 66 percent, the most in Abu Dhabi. The valuation premium Etisalat commands over the MSCI's developing-nation gauge based on future earnings climbed to the highest in about nine years.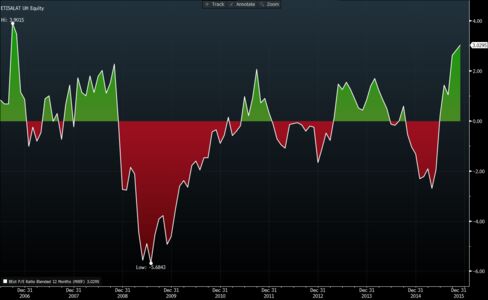 Investors piled into Etisalat after the United Arab Emirates opened its biggest telecommunications operator to foreign ownership in September, a step that also put the shares on course for inclusion in MSCI's gauge. As a result, the company bucked a stock selloff across the region sparked by a plunge in the price of oil, the source of most government revenue in the six-nation Gulf Cooperation Council.
"Etisalat is seeing positive inflows today by passive investors because of its inclusion in MSCI, although it remains fundamentally overvalued," Muhammad Shabbir, who manages about $550 million as the head of regional equities at Rasmala Investment Bank Ltd. in Dubai., said by phone Monday. "Given the dearth of good quality telecom names that pay good dividends, it remains attractive as a good long term investment, especially for those who believe that regional markets will remain under pressure because of oil price volatility."
Following today's gains, the shares are carrying a dividend yield of 4.9 percent, compared with 4.2 percent for the MSCI EM Telecom Services Sector Index.
Saturated Market
Etisalat got 57 percent of revenue last year from its home market, where almost every resident has two mobile lines, one of the highest rates in the world, according to the World Bank. The stock closed at 15.1 times future earnings on Monday, the highest since 2007 and compared with a ratio of 8.5 for the ADX General Index in Abu Dhabi, where it's listed, according to data compiled by Bloomberg.
Etisalat shares have "overshot in terms of valuations," said Yazan Abdeen, who manages $220 million of Middle East and North African assets at Jeddah, Saudi Arabia-based Sedco Capital. "The premium for the stock is partly justified by the MSCI inclusion, but not by the company's fundamentals. It's not sustainable. Something has to give, either the valuation or the growth."
Abdeen, who doesn't own Etisalat, sees better opportunities in telecommunications companies in Saudi Arabia, Qatar and Kuwait. His biggest holding is in Viva Kuwait Telecom, which trades at about 11.5 times estimated earnings for the next 12 months. The MSCI EM Index is valued at 10.9 times forward earnings.
Etisalat will join the gauge as of the close of trade on Monday. U.A.E. markets will be closed from Tuesday for national holidays, and will resume trading on Sunday.
Before it's here, it's on the Bloomberg Terminal.
LEARN MORE