Lira Honeymoon Cut Short as Downed Jet Underlines Turkey's Risks
Currency's slide follows rally that saw it outstrip most peers

Resumes status as year's worst performer outside Latin America
Turkey's downing of a Russian jet is reminding investors of all the reasons they dislike the lira.
The incident near the Syrian border last week ended an election-fueled rally and restored the lira's status as the year's worst-performing currency outside Latin America. Russia imposed trading curbs on its neighbor, unnerving investors already on edge about Turkey's vulnerability to higher U.S. interest rates and capital outflows.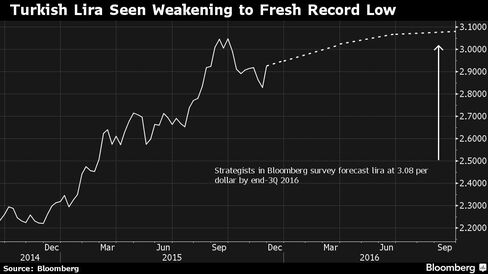 The lira rallied for the first time in more than a week Monday after European Union officials pledged to help Turkey resume its membership bid and data showed the nation's trade deficit narrowed. Even so, it looks like further losses are in store for Turkey's currency, with strategists predicting a new record low versus the dollar in 2016.
"It's a bit of an abrupt ending of the honeymoon here for the lira," said Roxana Hulea, an emerging-market strategist at Societe Generale SA in London, who predicts the currency will slump to an all-time low of 3.1 per dollar in the first quarter of next year, from 2.9115 on Monday. The incident with Russia "could entail negative economic sanctions from one of Turkey's important trade partners," she said.
Travel Ban
The stakes are high for Turkey after the first direct clash between foreign powers embroiled in Syria's civil war. Russia was Turkey's third-largest trading partner in the second quarter, and Russians make up more than 10 percent of tourists to the country. That means Russia's halting of tours to Turkey may deal a blow to an economy already growing at the slowest pace since 2012.
The lira had been rallying either side of the Nov. 1 elections that returned the party President Recep Tayyip Erdogan co-founded to power, as investors looked forward to an end to months of political deadlock.
After falling to a record 3.0752 per dollar in September, Turkey's currency rebounded 8 percent through Nov. 20 in what was the second-biggest gain among 31 major peers tracked by Bloomberg. The lira's 3.4 percent slump last week extended its slide in 2015 to 20 percent, the sharpest loss after Brazil's real and the Colombian peso.
More Bearish
Options traders are more bearish on the lira than any major peer except Argentina's peso and Russia's ruble. After shrinking as the currency rallied, the premium for six-month contracts allowing lira sales over contracts to buy widened to 4.2 percentage points on Monday.
Most of the political optimism is now priced in and investors are focusing on other issues facing Turkey, according to Guillaume Tresca, a currency strategist at Credit Agricole SA in Paris who said he's speculating the lira will drop to 2.96 per dollar, without specifying a time frame.
The challenges include the central bank's reluctance to raise interest rates to curb above-target inflation. That may damp growth and discourage investment as the U.S. lifts borrowing costs -- a particular challenge for a country dependent on inflows to finance the largest current-account deficit as a percentage of output among the Group-of-20 nations.
"Growing tensions with Russia show that the room for deterioration is significant," said Tresca. The central bank "has been behind the curve and they've not changed their stance at all," he said.
New Low
Median forecasts of strategists surveyed by Bloomberg put Turkey's currency at 3.02 per dollar on March 31 and a fresh low of 3.08 by the end of September.
Not everyone's so pessimistic. Gautam Kalani, an emerging-markets strategist at Deutsche Bank AG in London, recommends buying the lira against the euro, citing its potentially high carry returns and the recent drop in oil prices that will help cut Turkey's costs as a net energy importer. The lira is the third-biggest loser versus Europe's shared currency this year.
Having supported the lira until last week, politics may become one of the currency's biggest impediments, said Anders Faergemann, a fund manager in London at Pinebridge Investments Europe Ltd. Erdogan has called for a new constitution to change Turkey's parliamentary system to an executive presidency, which risks putting off investors concerned about a centralization of power.
"Short-term political clarity has been replaced by medium-term uncertainty," said Faergemann, whose company oversees $78 billion. The lira's honeymoon period is over "even before it started," he said.
Before it's here, it's on the Bloomberg Terminal.
LEARN MORE