Gulf Keystone shares pare losses after payment announced

Oil companies are owed about $1.7 billion from Kurdistan
The Kurdistan Regional Government paid international oil companies operating in the Iraqi autonomous region for a third consecutive month, disbursing funds that it says will allow production to be maintained.
Payments will improve when exports increase or the oil price rebounds, the KRG said Monday in an e-mailed statement. The government said the release of funds would be in line with those in September and October, which both saw disbursements of $75 million.
Gulf Keystone Petroleum Ltd., Genel Energy Plc and DNO ASA were awaiting a November payment for the roughly 300,000 barrels a day they jointly produce. Shares of Gulf Keystone rose 2.3 percent to 22 pence in London Tuesday, while Genel advanced 2.6 percent and DNO gained 1.3 percent in Oslo.
The KRG vowed to re-establish regular monthly payments in August, following an eight-month hiatus after disagreements with Iraq's central government in Baghdad over how the region should be remunerated for its oil output. The collapse in crude prices and the cost of fighting Islamic State is making it harder for the KRG to balance its books.
Encouraging Move
"Any payment they make at this point is encouraging but it's not transformational," Shola Labinjo, a London-based analyst at Tudor, Pickering, Holt & Co said by phone Monday. These payments allow the companies to manage their costs, but they're not enough to reduce the amount that the KRG owes the oil companies, he said.
The three companies are owed about $1.7 billion from past crude exports, based on their last regulatory filings. Unless this is paid, an increase in crude production isn't possible, according to top executives at DNO, Genel and Gulf Keystone. The KRG earned $3.3 billion from direct oil sales and received $1.98 billion in shared export revenue from Iraq's federal government this year to mid-November, according to a report from the administration published Tuesday.
The announcement came as the KRG's prime minister and oil minister were due to speak at an investor conference in London on Tuesday. It also follows a ruling by a U.K. court ordering the KRG to pay $1.98 billion to Dana Gas PJSC and two other energy companies in a dispute over development rights for two oil and natural gas fields in Iraq's self-governing Kurdish region.
While the KRG has been supportive of Gulf Keystone, the Dana Gas ruling has caused some concerns in the market, James Midgley, an analyst at Mirabaud Securities LLP, said by phone. "It's just more stretch on the balance sheet of the KRG, which was already stretched," he said.
Kurdistan Driver
Kurdistan is a major driver of Iraq's record crude production this year, with the region exporting 644,978 barrels a day in November, according to estimates from the Kurdish Ministry of Natural Resources. That's more than double the level it was shipping in January.
Lower oil prices and the conflict with Islamic State have been compounded by the collapse in the revenue-sharing agreement between Baghdad and Erbil, leading the KRG to pursue crude sales independently.
Liquidity and indebtedness remains a concern for investors in oil producers in Kurdistan. Yields on Gulf Keystone's $325 million of convertible bonds maturing in October 2017 have widened to 90 percent from less than 30 percent in January, according to data compiled by Bloomberg.
Debt Concern
"They're quite highly leveraged," Sam Wahab, an analyst at Cantor Fitzgerald Europe said. The company has to make two bond repayments of $575 million in 2017. Regular monthly payments, similar to the $12 million Gulf Keystone received in September and October, won't be enough for the company to renegotiate the debt on the same terms, Wahab said.
Genel has a bond repayment of $730 million two years later, while DNO's $400 million bond repayment comes in 2020. Yields on those bonds are almost 20 percent.
The need to strengthen balance sheets has prompted speculation over consolidation among producers in Kurdistan, especially after $9.4 billion was wiped off the three companies' market value since early 2014.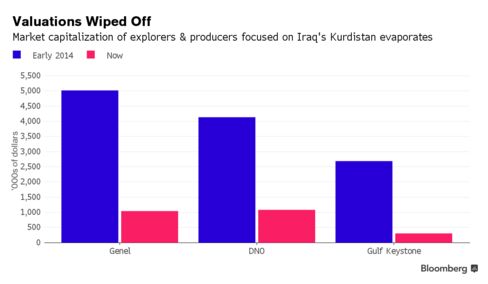 Genel is said to be in early merger talks with with New Age African Global Energy Ltd., a closely held explorer backed by commodities trading house Vitol SA. Gulf Keystone is still interested in finding a partner for its flagship Shaikan field or even a buyer for the whole company, Chief Executive Officer Jon Ferrier said last month.
Any buyer would have to weigh the risks associated with going into Kurdistan, according to Tudor's Labinjo.
"There are a number of other opportunities that are available to larger companies in this market with lower risk, so you don't have the issue about security, or ISIS nor do you have payment problems," Labinjo said.
Before it's here, it's on the Bloomberg Terminal.
LEARN MORE