Czech Koruna May Turn Into the Next Swiss Franc, Pioneer Warns
ECB easing poses threat to koruna cap, money manager says

Protecting against cap break in options market was `cheap'
The Czech National Bank will come under pressure to abandon its exchange-rate cap in the face of an aggressively easing European Central Bank, according to Pioneer Investments.
Czech central bankers have said they're committed to maintaining a cap on the koruna's gains versus the euro until around the end of next year. But to Pioneer, that's reminiscent of when the Swiss National Bank insisted its own currency ceiling was an important part of its policy, just days before roiling markets by abandoning it.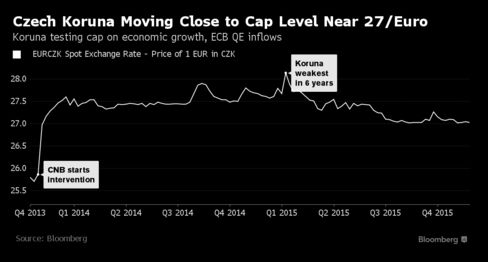 The $242 billion asset manager is using options to bet that CNB Governor Miroslav Singer will have to follow suit.
"I'm surprised that the Czech central bank can hold the floor for so long while the ECB is getting is more and more dovish," Andreas Koenig, the Dublin-based head of European foreign exchange at Pioneer, said in an interview in London. "We have taken an option position based on a view that they might" abandon the koruna cap, he said. "It was cheap as the volatility is surprisingly low even as you have such a risk in front of you."
Koenig said he used a method known as delta hedging to replicate a bet that the koruna will strengthen against the euro. He said this trade wasn't available in the conventional options market because of the risk created by the SNB's policy shock 10 months ago.
Delta Hedge
"If we are wrong and the koruna moves away from the floor, then our euro call is fine and we can make back the premium," Koenig said. "If it breaks and the call is rendered worthless, then we have a delta hedge."
With the ECB poised to boost its bond-purchase program and possibly cut its deposit rate in December, strategists are cutting their euro forecasts at the fastest pace since March. More easing from officials in Frankfurt would put pressure on the cap of about 27 koruna per euro, which was imposed in November 2013 and which the CNB's Singer has pledged to defend by selling local currency.
Czech officials have said they'll maintain the currency at that level until about December 2016, or longer if needed. They favor a weaker exchange rate to help push up inflation.
The koruna has rebounded more than 5 percent versus Europe's shared currency from a six-year low in January, and was at 27.024 per euro as of 9:25 a.m. London time.
Pain Threshold
Singer said last week he personally has no "pain threshold" for the amount of foreign-exchange reserves he'd need to accumulate through intervening to maintain the cap. He said that if other Czech policy makers have one, it's "certainly higher" than for the Swiss franc.
The CNB governor has also repeatedly said that, unlike in Switzerland, Czech policy makers don't use part of their profits for the public budget. That may make the nation's central bank more resilient to foreign-exchange losses than the SNB.
Removing the cap would prompt a swing of about 5 percent in the euro-koruna rate, compared with the 41 percent intraday move in euro-franc after the SNB scrapped its cap on Jan. 15, Koenig said.
"I've been in this market for more than 20 years and the SNB's decision in January was without any doubt one of the biggest surprises, but luckily we closed our franc positions before that," said Koenig. "We're having a similar situation that the Swiss franc had previously with the Czech koruna -- though on a much smaller scale."
Before it's here, it's on the Bloomberg Terminal.
LEARN MORE