Global stocks are falling for a second day and set for the third monthly decline in four. It's a significant week with the European Central Bank widely expected to increase stimulus on Thursday. Key events in the U.S. include Friday's jobs report and Federal Reserve Chair Janet Yellen's appearance before Congress on Thursday. Today the COP21 climate-change conference gets underway in Paris. The aim of the gathering is to reach an accord on reducing carbon emissions to curb global warming.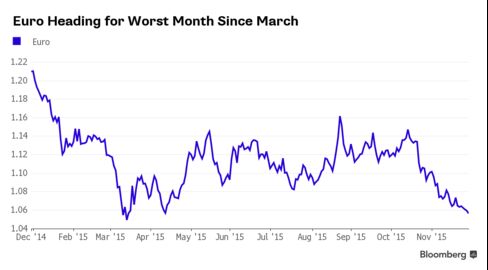 The euro has dropped almost 4 percent against the dollar in November, its worst performance since March. It's also on track for its third monthly decline, something that hasn't happened in eight months. Economists surveyed by Bloomberg unanimously predict the ECB will boost stimulus this week. A cut in the deposit rate is 100 percent certain, according to futures prices. More than three-quarters of respondents in the survey expect a cut. The median call is for a reduction to minus 0.3 percent. Almost 80 percent say the ECB will prolong its bond-buying program beyond the initial end-date of September 2016. Two-thirds see an increase in the level of monthly purchases. Just under half predict the ECB will boraden the range of assets it buys. The euro has dropped against 13 out of its 16 major peers this month.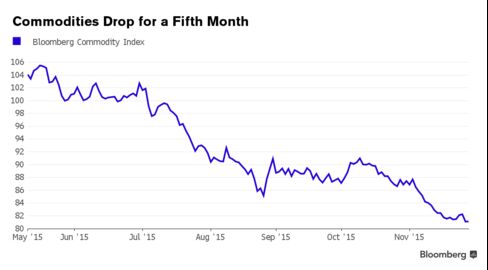 A gauge of 22 materials is set for a fifth monthly decline, the worst stretch since January. Commodities have been battered by China's deteriorating economy and a strong dollar, which has been boosted by the prospect of a U.S. interest rate hike in December. The odds of a move next month are 74 percent, according to Bloomberg data. A little over a month ago the probability was 32 percent. Friday's U.S. jobs report may seal the decision on Dec.16. The economy is forecast to add 200,000 jobs in November. The Bloomberg Commodity Index is languishing at levels not seen since 1999. The worst performers in November are nickel, crude oil and Copper (-11%).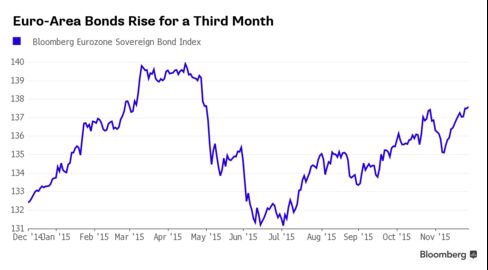 Eurozone government bonds are rising on the day and the month ahead of Thursday's ECB decision. The Bloomberg Eurozone Soverign Bond Index has reached its highest since May.1. Since the ECB's last meeting on Oct.22 in Malta, the amount of euro-area government bonds yielding below zero has risen from $1.38 trillion to more than $2 trillion out of a $6.4 trillion market. If the ECB cuts the deposit rate to minus 0.3 percent, that frees up $373 billion of securities it's able to buy, since it can't buy assets yielding less than minus 0.2 percent. Some $453 billion of bonds have dropped below minus 0.3% since the last meeting, meaning the ECB may have to keep cutting the deposit rate to free up more securities.
Mark Barton is a presenter on Bloomberg TV. Follow him on Twitter @markbartontv
Before it's here, it's on the Bloomberg Terminal.
LEARN MORE