Aussie Bonds World's Biggest Losers as Stevens Disappoints Doves
Declines more than double U.S. as Fed mulls tightening policy

Expectations for interest-rate reductions have been wound back
Reserve Bank of Australia Governor Glenn Stevens keeps thwarting those investors betting on interest-rate cuts. That's made the nation's bonds the developed world's biggest losers.
Government securities due in more than a year made a 1.1 percent loss in November, the worst performance among 26 bond markets tracked by Bloomberg and the European Federation of Financial Analysts Societies. That's more than twice the slide for similar securities in the U.S., where the Federal Reserve is preparing to raise interest rates for the first time in almost a decade.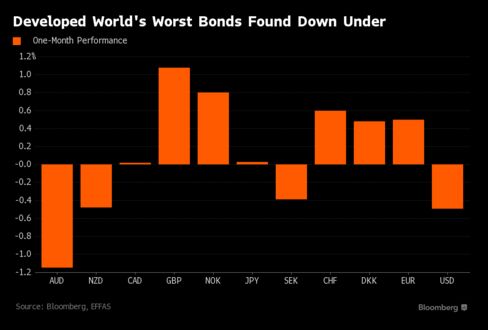 The declines highlight a disconnect between money managers who are watching economic indicators from the inflation rate to mining investment fall and Stevens, who's telling them to "chill out." Policy makers appear keen to hold off cutting rates further to avoid reinvigorating the Sydney property market and hurting savers. After holding rates at a record-low 2 percent this month, Stevens said Tuesday prospects for improvement in the economy had firmed, even as inflation is low enough to allow for another easing.
Expectations Unwound
"Most people have unwound their expectations of a rate cut," Roger Bridges, chief global strategist for interest rates and currencies in Sydney at Nikko Asset Management Australia, said before the RBA decision. "Everybody was clamoring that they had to cut. Now the governor's sort of said he favors being on hold," he said, referring to the "chill out" comment. Nikko Asset oversees the equivalent of $15.2 billion.
The selloff in debt has pushed benchmark 10-year bond yields up to 2.84 percent from the record low of 2.25 percent set in February. They will become attractive if the yield approaches 3 percent, offering a one-percentage-point premium over the central bank's 2 percent benchmark, Bridges said.
Yields have risen even as investment in the nation's mining industry dropped for a fifth quarter and business cut spending by the most on record. Inflation has been below the central bank's target of 2 percent to 3 percent for a year. On the plus side, the economy added the most jobs in October in more than three years.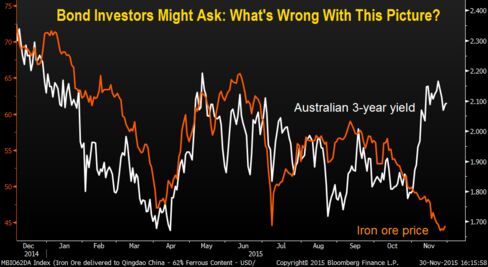 Stevens told investors last week to focus on the holidays. "We've got Christmas," he said. "We should just chill out, come back and see what the data says."
Bulls Remain
Morgan Stanley Investment Management said Aussie bonds remain attractive because monetary easing remains on the table in the coming months.
"Yields are higher than in most places around the world, and at least rates aren't going up" in Australia, said Michael Kushma, the New York-based chief investment officer for global fixed income at the money manager, which oversees $404 billion. "It's an environment where its conducive to fixed income. The economy is suffering through this transition period. They're biased to lower rates at the first signs of trouble."
The odds the Reserve Bank will cut its main interest rate by the middle of 2016 are about 42 percent, swaps contracts indicate.
Those chances have come way down. Three months ago investors saw a 75 percent chance the RBA would reduce its benchmark to 1.75 percent or lower by the end of the first quarter of next year. Since then, underlying inflation dropped to a three-year low, key export iron ore tumbled 21 percent as commodities collapsed worldwide and China, Australia's biggest trading partner, reported declines in exports and imports.
A bright spot in the economy cited by the central bank has been unemployment, which fell below 6 percent in October as 58,600 jobs were created. Australia is on track for its best year of job generation since 2010. Growth in the housing market looks to have moderated, the RBA said in the minutes of November's meeting. Stevens had said in June that Sydney home prices were "crazy."
The disconnect between Stevens and bond investors will help drive volatility, said Ben Alexander, a principal in Sydney at Ardea Investment Management, which oversees the equivalent of $4 billion.
"He's got no problem surprising them," Alexander said.
Before it's here, it's on the Bloomberg Terminal.
LEARN MORE