Anglo's Kumba Faces More Cutbacks as Iron-Ore Rout Deepens
Iron-ore prices extend drop to below Kumba's $45-a-ton target

Company said in July $40 prices could result in more action
The pressure is mounting on Anglo American Plc's South African iron-ore unit to make further cutbacks as the rout in prices for the steelmaking ingredient accelerates.
Kumba Iron Ore Ltd. in July axed its dividend for the first time and said it would cut jobs, trim capital expenditure and change mine plans to combat the price slump. Chief Executive Officer Norman Mbazima said at the time that "we might have to look again at our business" if prices fell below $40 a dry ton in the near term.
That threshold is getting nearer, with prices only about 7 percent above that level and at the lowest in data going back more than seven years. Iron ore has slumped as the biggest miners boost low-cost production and demand contracts in China for the first time in a generation, exacerbating oversupplies. The material is now below Kumba's break-even price, which includes capital expenses, of about $45 a ton.
"You're going to see some more attempts at cost cutting," Des Kilalea, an analyst at RBC Capital Markets LLC in London, said by phone. "I'm not sure where it will come from, but there has to be further scope."
Nikki Wetzlar, a spokeswoman for the Pretoria-based company, didn't respond to e-mails or phone requests for a comment.
Ore with 62 percent content delivered to Qingdao slipped 3.4 percent to $42.97 a dry ton on Monday, the lowest in daily data dating back to May 2008, according to Metal Bulletin Ltd. The commodity was at about $52 when Kumba announced its cost-cutting efforts on July 21.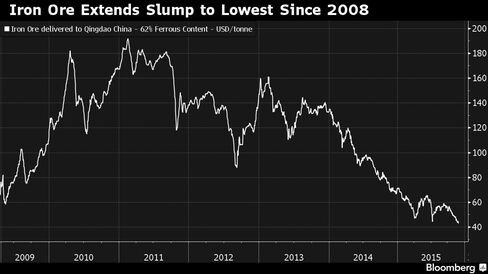 The slump has hurt Kumba, which is 70 percent owned by Anglo American, data compiled by Bloomberg show. Kumba shares slid 12 percent in Johannesburg on Monday to near the lowest since the securities were listed in 2006. It's down 81 percent this year, making it the second-worst performer in the JSE's broadest gauge of equities. The stock was downgraded to underweight from equal-weight by Barclays Plc analyst James Hutchinson.
The rand's 20 percent drop against the dollar this year has minimized the pain for Kumba, which gets paid in dollars and incurs expenses in the local currency, according to RBC, which is providing Kumba's parent Anglo American with non-securities services. Losses were also limited because Kumba produces an ore lump product that has a higher iron content and trades at a premium to normal ore, RBC said.
The slump in Kumba's shares may be overdone because the outlook for lower earnings has already been priced in, Stephen Meintjes, an analyst at Momentum SP Reid, said by phone. Even so, the company still faces a decision on its costs.
"They'll be deeply aware of the need to cut current costs," Meintjes said.
Before it's here, it's on the Bloomberg Terminal.
LEARN MORE