Sanctioned Russian Bank That Can't Repay Loans Is Bond Favorite
Vnesheconombank bonds rally on bets Russia will take them over

Development bank used for Sochi Olympics seeks $23b bailout
Not having enough cash to pay an $800 million loan is driving a rally in the bonds of a Russian bank sanctioned by the U.S. and European Union.
Vnesheconombank's $1.6 billion of notes due July 2020 jumped to a 16-month high of 105 cents on the dollar last week on speculation the government will take over the lender's $18 billion of external debt. As the Dec. 18 deadline approaches to pay back foreign banks for a credit they can't roll over under sanctions, VEB bonds traded at the narrowest premium to government debt since October 2013. Their 31 percent return makes them the best issuer in a Bank of America Merrill Lynch index of corporate bonds from developing nations this year.
"The sovereign-ization of debt is getting more likely," said Alejandro Arevalo, who helps oversee 4.5 billion euros of debt as emerging-markets money manager at Pioneer Investment Management Ltd. in London, including VEB bonds. "There could be further positive performance" for the debt, he said.
The potential bailout is evidence of the deepening financial toll that Russia is bearing after President Vladimir Putin's actions in Ukraine's easternmost regions triggered sanctions. VEB is the latest quasi-state borrower to seek support after measures that have included capital injections for banks and giving lenders access to as much as $50 billion to help clients meet foreign debt payments.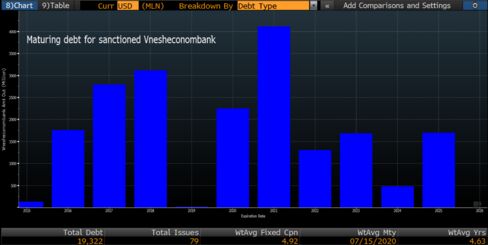 The development bank, used to help build stadiums for the Sochi Winter Olympics in February 2014, faces $19 billion of debt maturities by 2025 and is seeking 1.5 trillion rubles ($23 billion) to support long-term growth and pay off the upcoming loan, according to data compiled by Bloomberg and a Standard & Poor's report on Nov. 23. That's roughly 2 percent of the nation's gross domestic product, S&P said.
How VEB will be bailed out and its ultimate burden has been the topic of a flurry of Russian newspaper reports this month. The finance ministry's proposals include exchanging the lender's Eurobonds for Russian government securities, Vedomosti reported Nov. 24. Other options on the table include a local government bond offering for 1.5 trillion rubles to recapitalize the bank, and transferring bad assets from VEB's balance sheet to the state, according to newspaper Kommersant.
Russia is looking to replace Vladimir Dmitriev as VEB chairman, Vedomosti reported on Monday, citing banking and VEB officials that it didn't name.
Swap Welcomed
"As a holder of VEB I think one would be delighted to have them swapped into sovereign bonds," said Max Wolman, who helps manage $13.5 billion in emerging-market debt at Aberdeen Asset Management Plc. "The spreads should tighten in further given the Russian government's expected strong support of the bank."
Officials are likely to announce the exact amount of aid in late December, following the meeting of the supervisory board headed by the prime minister, according to S&P. In an e-mailed response to questions, a VEB spokesperson declined to comment on Nov. 27.
A rescue of VEB would come as yet another installment in a mounting bill to relieve the damage inflicted by sanctions, draining rainy-day wealth funds already getting little help from the 60 percent slump in the price of oil since Russia annexed Crimea in March 2014. VEB's restructuring may drive up Russia's foreign-currency debt "sharply," Royal Bank of Scotland Plc said in a research note on Nov. 26.
In the meantime, bonds are signalling the aid is a given. VEB yields are moving closer to those on government bonds, with notes due in 2020 trading at a premium of about 205 basis points, compared with 678 at the start of the year. Gazprombank analyst Andrey Klapko said the spread will narrow by 50 basis points in coming weeks to reflect the bailout.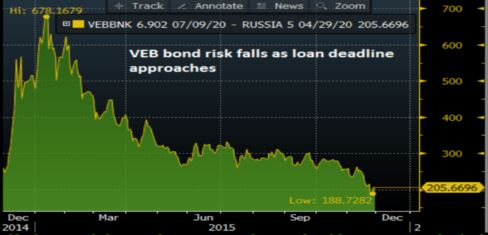 The finance ministry will probably end up doling out an amount "notably lower than 1.5 trillion rubles, but enough to enable the bank to support its financial profile," S&P said last week. The ratings firm said it kept its grade on VEB on par with Russia's at BB+ because it's "almost certain the government would extend timely and sufficient extraordinary support."
"It shows that Russia can finance its corporate sector, even under sanctions," said Jan Dehn, head of research at Ashmore Group Plc in London. "The sovereign can issue, on-lend to corporates and get repaid locally, in rubles or U.S. dollars."
Before it's here, it's on the Bloomberg Terminal.
LEARN MORE