Cameron Steps Up Preparations for Commons Vote on Bombing Syria
U.K. prime minister drawing up motion for vote in parliament

Corbyn under pressure from Labour lawmakers to offer free vote
Prime Minister David Cameron is making preparations for a vote in the U.K. House of Commons on extending British airstrikes against Islamic State to Syria from Iraq.
His office in London is drawing up a motion for a vote as senior ministers appeal directly to lawmakers in the opposition Labour Party to defy their leader, Jeremy Corbyn, who says attacking the Islamist organization in Syria will lead to civilian casualties and fuel extremism.
"I hope when the choice comes, people will indicate that this is the right thing for Britain and we should do it," Cameron told reporters Saturday at the Commonwealth summit in Malta. "There is a compelling case that taking military action alongside our allies can help to address the threat."
A vote would represent a gamble for Cameron, who lost an effort in 2013 to win backing then for action in Syria to attack the forces of President Bashar al-Assad. Cameron currently has a narrow majority in parliament.
While Labour is split on whether to take the fight beyond Iraq, some in Cameron's Conservative Party also are opposed to the move, as are the Scottish nationalists, the third-largest U.K. party. A vote could be scheduled as soon as this week, according to the BBC.
Cameron spelled out his rationale for more attacks in a speech and report to parliament on Thursday, telling lawmakers that bombing is needed alongside political attempts to form a new government in Syria. Britain should not allow other nations to do its work for it, he said.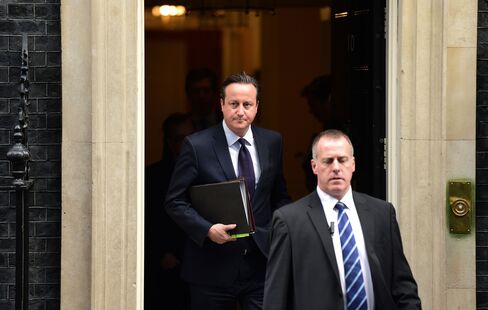 French President Francois Hollande also used a press conference at the summit in Malta on Friday to appeal to his fellow socialists in the U.K. Labour Party to back Cameron's plan in the wake of the Paris terror attacks.
The motion will include the importance of bombing to counter extremism and the need to have a parallel political process while degrading Islamic State's weapons and bases. It also will commit to the continued supply of humanitarian support, Cameron's office said.
Speaking to BBC Television's "Andrew Marr Show," U.K. Defence Secretary Michael Fallon said he'd been talking to Labour members of parliament to press the case for action, saying Islamic State posed "a very direct threat" to Britain if the organization is left unchecked.
'Hugely Damaging'
If the government is defeated over Syrian airstrikes, it would be "hugely damaging to Britain's reputation, and I honestly believe it would leave us less safe than we are at the moment," he said.
Corbyn, who has said he personally can't support British airstrikes in Syria, said no decision had been made on whether to "whip" Labour lawmakers into voting against. He said he alone will make the final decision after reviewing about 70,000 survey responses from party members on the issue. Labour's shadow cabinet is due to meet on Monday.
"There are strong views in both directions," Corbyn told the Marr show. "We will have have further discussion on this. We will make that decision -- not at the moment, later on."
Under Pressure
Members of Corbyn's party who support extending military action are pressing him to let Labour lawmakers vote in line with their consciences. They include Deputy Leader Tom Watson and former business spokesman Chuka Umunna, who said he'd be prepared to rebel against Cobyn in a whipped vote.
"There is no shame in there being a wide range of views on issues of war and peace," Umunna told Sky News Sunday.
The motion will also use the United Nations Security Council Resolution, which calls on states to take "all necessary measures," to persuade waverers that the action has legal backing. No date has been set for a vote on bombing, Cameron's spokeswoman, Helen Bower, told reporters in Malta.
Before it's here, it's on the Bloomberg Terminal.
LEARN MORE