Goldman Sachs Hires England's New Rugby Coach Eddie Jones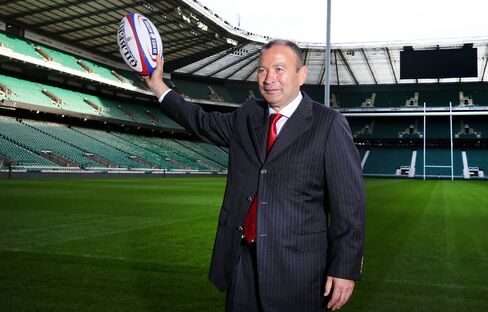 Goldman Sachs Group Inc. has appointed England's new national rugby coach, Eddie Jones, to the bank's advisory board in Japan.
The Australian, 55, who recently coached Japan's national team to win an unprecedented three games in the 2015 Rugby World Cup, joins the nine-member advisory board on Jan. 1, a spokesman said. The board comprises people from the public and private sector and was created in 2001 to advise Goldman Sachs on business, regulatory, and public policy issues in Japan, the New York-based bank said in a statement Friday.
He "has achieved the impossible by bringing the Japanese team to a level on par with the best in world rugby," Masanori Mochida, president of Goldman Sachs Japan Co., said in a statement. "Goldman Sachs will benefit from his unrivaled leadership and his ability to bring together a multi-cultural team," said Mochida, who played rugby for Keio University.
Jones this month became England's first foreign head coach after the national rugby team failed to make it out of the pool stages of the Rugby World Cup. He coached Australia to the final of the 2003 tournament. The 2019 event will be staged in Japan.
Watch Next: England Rugby Job Doesn't Interest NZ's Henry
Before it's here, it's on the Bloomberg Terminal.
LEARN MORE