EU Pledges 734 Million Euros of Aid for Mozambique Through 2020
The European Union agreed to give Mozambique 734 million euros ($780 million) in aid through 2020, with the aim of strengthening democracy and good governance and promoting rural development in the southern African country.
An unspecified portion of the funds is earmarked for "general budget support," a statement posted on the European Commission's website Thursday shows. The donation is lower than the 747 million euros the EU provided for 2007 to 2013.
A global slump in commodity prices is straining the economy of Mozambique and its currency's 39 percent plunge against the dollar makes the metical the world's third-worst performer this year. The International Monetary Fund agreed in principle last month to give Mozambique an emergency borrowing facility of $286 million, and the country is trying to restructure an $850 million bond borrowed at commercial terms in 2013.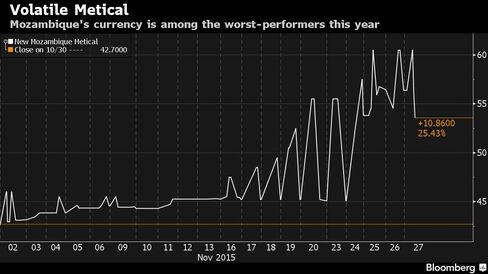 Support from foreign donors for Mozambique's 2016 budget is $305 million, up from $271 million for this year, the government and those providing support said in June. The World Bank, the EU, U.K. and Sweden are among the biggest donors. Finland, Canada, Switzerland, Belgium, Spain, the Netherlands and Norway have stopped providing money for the budget in the past two years.
Before it's here, it's on the Bloomberg Terminal.
LEARN MORE