Japan Bad-Loan Costs All But Vanish as Bankruptcy at 25-Year Low
Megabanks' credit costs expected to `remain low and stable'

Sumitomo Mitsui has record-low bad-loan ratio of 0.85%
The cost for Japan's biggest banks to deal with soured loans all but disappeared in the first half as bankruptcies plunged.
Mizuho Financial Group Inc.'s lending arms had credit costs of just 400 million yen ($3.3 million) in the first half, down from 539.3 billion yen in the year ended March 2009 during the global financial crisis. Bad-debt ratios at the main banking units of Mitsubishi UFJ Financial Group Inc. and Sumitomo Mitsui Financial Group Inc. fell to record lows in the six months ended Sept. 30. The two lenders took the cash set aside to cover delinquencies and booked it as profit, reports showed this month.
Declining credit costs since the worldwide meltdown have helped the three banking groups protect profit that has been under pressure from shrinking lending margins. Unprecedented monetary easing to revive the economy has lowered interest rates, making it easier for Japanese corporate borrowers to repay loans and stay in business, with bankruptcies tumbling to a 25-year low in August.
"We may have seen the peak in reversals of credit provisions," said Akira Takai, a Tokyo-based analyst at Daiwa Securities Group Inc., Japan's second-biggest brokerage. "But with a recovering economy, credit expenses should remain low and stable."
Mitsubishi UFJ's main lending units clawed back 22.5 billion yen of reserves that had been set aside for non-performing loans in the six months ended Sept. 30. Sumitomo Mitsui Banking Corp. reversed provisions of 27.6 billion yen and expects to record zero bad-debt costs for the year ending March. Mitsubishi UFJ is forecasting credit expenses of 5 billion yen at its banking units and Mizuho projects 50 billion yen in costs.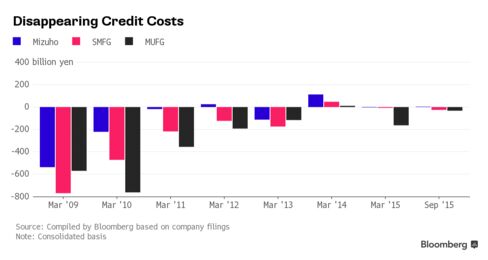 Non-performing claims at the lending units of Mitsubishi UFJ, Japan's biggest bank, totaled 1.16 trillion yen as of Sept. 30, making up a record-low 1.08 percent of total loans. Sumitomo Mitsui Banking's bad debts accounted for an unprecedented 0.85 percent of loans, and at Mizuho's units they made up 1.06 percent.
Credit costs "remain at low levels," Japanese Bankers Association Chairman Yasuhiro Sato said on Nov. 19. "We've reached a crucial point in cementing the economic recovery and ensuring this leads to growth over the medium to long term."
The three so-called megabank groups earned a combined 1.4 trillion yen of net income in the fiscal first half. While that's down 3 percent from a year earlier, it represents 59 percent of their combined annual profit target. Shares of Mitsubishi UFJ have climbed 21 percent this year, Mizuho has gained 25 percent and Sumitomo Mitsui is up 9.8 percent.
Falling Bankruptcies
Net income at companies in the Topix stock index, excluding financial firms, increased 17 percent in the six months ended Sept. 30, according to SMBC Nikko Securities Inc. Japanese corporate bankruptcies have fallen every month this year except March, and the number of cases dropped to 632 in August, the lowest since 1990, Tokyo Shoko Research Ltd. data show.
"We're not seeing a rise in bankruptcies in Japan," said Makoto Kuroda, an analyst at JPMorgan Chase & Co. in Tokyo. "Low and stable credit costs are likely to continue."
On a consolidated basis, the three lenders are forecasting combined credit expenses will climb to 300 billion yen this fiscal year from 174 billion yen a year earlier. Daiwa's Takai said the anticipated increase at the group level is due to costs in areas outside of traditional banking such as consumer finance.
Japanese banks, which have been expanding lending abroad, probably won't experience a surge in bad-loan costs overseas, JPMorgan's Kuroda said. While the impact of a slowing Chinese economy "can't be ignored," most of the banks' loans outside of Japan are to state-owned or high-quality companies, Kuroda said.
Before it's here, it's on the Bloomberg Terminal.
LEARN MORE