You know about Kona coffee grown on the volcanic slopes of Hawaii's Big Island and about those impossibly sweet pineapples, but on Saturday mornings in eastern Honolulu, the KCC Farmers Market gets rowdy with people after all sorts of other things.
There are fresh abalone still alive in the shells and spiky deep-water shrimp to eat whole, yakitori-style, hot off the grill. Culinary students from Kapiolani Community College sell suckling pig meat inside buns baked with taro root starch. OnoPops has wands of vanilla ice cream frosted over with passion fruit sorbet and swirls of pureed strawberries and goat cheese sweetened with cane juice.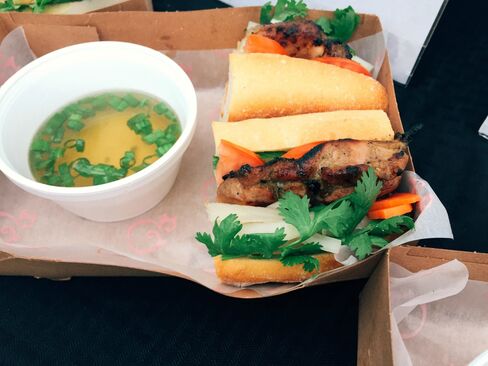 But the most densely filled and dedicated line is the one for the Pig and the Lady, a Vietnamese food stall operating inside a cloud of grilled chicken smoke and anise-scented steam that rolls off a stock pot in the center of the kitchen.
"It's really quiet today because of the rain," says co-owner Alex Le, as he ladles broth over noodles, though the line hasn't let up since 7:30 a.m., when the first customer of the day ducked under the tarp and ordered the special, a thoroughly delicious, turmeric-stained brisket curry with carrots and tomatoes.
Chef and co-owner Andrew Le, a 32-year-old first-generation Hawaiian, started the Pig and the Lady as an occasional pop-up back in 2011 and later became a vendor at the city's farmers markets. Two years ago, Le opened a restaurant in an industrial space in Honolulu's Chinatown where he gets deeper into Vietnamese cooking, beyond pho and spring rolls, into lesser-known noodle soups from the south of the country, regional dishes from along the Cambodian border, and Chinese-influenced Vietnamese food.
Now Le is at work on the menu for a second restaurant in town, as well as a partnership with Hawaiian Airlines that will involve serving plane-friendly versions of Le's cooking to first-class passengers next year. On the second floor of Le's Chinatown restaurant, a lab-like kitchen built to teach cooking classes and host other chefs' popups is nearly ready.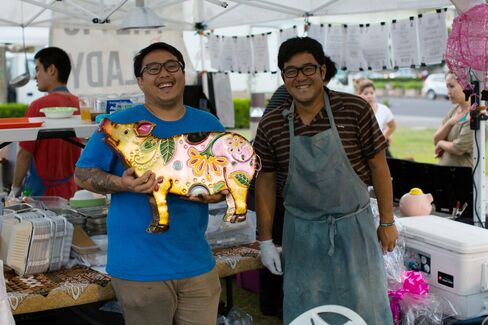 A hybrid soup-inspired sandwich is partly responsible for Le's growing fame. To be precise, a sandwich that integrates the flavors of pho into a kind of French dip. This may sound silly until you actually taste it: Le's sandwich is a crusty baguette stuffed with spiced, cured brisket, cooked so it's tender and falling apart, with a pile of mung bean sprouts smoked up in a hot wok and a rough paste of Thai basil. It's delicious just like that, but on the side is a bowl of meaty pho broth with a float of fresh herbs. Dip the sandwich into the broth, and the bread drinks up the liquid, turning dumpling soft. The beef is licked with umami and aromatics. Everything gets exponentially better.
The Pig and the Lady's business plans might be ambitious, but the staff is also closely-knit and packed with friends and family. Teri Le, who is married to Andrew, runs the office on the second floor of the restaurant. Alex Le, his older brother, is responsible for the popular traveling kitchen at the farmers markets. Lawrence Ho, who worked in finance in Hong Kong for a decade and is now a partner at the restaurant, met Le when he was a kid growing up in Honolulu.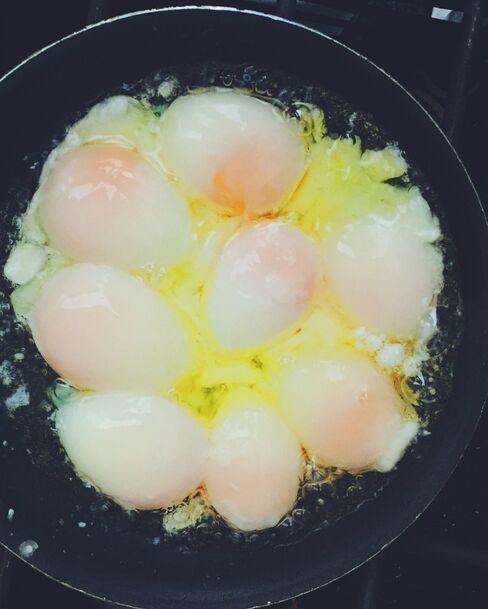 "When we were young, we always went to Andrew's house," says Ho, pulling up a chair outside the office. "Because he had a pool, but mostly because his mom cooked amazing food."
Andrew's mother is Loan Le, known to everyone as Mama Le. She was born in Hanoi, the youngest of 13 children, and later married a man from central Vietnam who worked as an English translator during the Vietnam War. The young couple left as refugees in the 1970s and landed in Hawaii, where Loan taught herself how to cook every single thing she missed from home and quietly dreamed of opening a restaurant.
After culinary school and years in a French kitchen, Andrew Le wanted to start making Vietnamese food seriously, and he turned to Loan for instruction. But he was still experimenting, figuring out how to synthesize all his influences, and he wanted to do crazy stuff, like put bacon and eggs into pho.
"You're going to embarrass the Vietnamese community," Loan warned him when he first pitched her that French dip sandwich idea. "You're going to shame the family!" The two butted heads over change in the same way that every first generation kid butts heads with his parents, but they loved working together (the company is named after the pair: Andrew's the pig; Loan's the lady). As praise came in from diners, Andrew learned to trust his new ideas, and Loan learned to like them.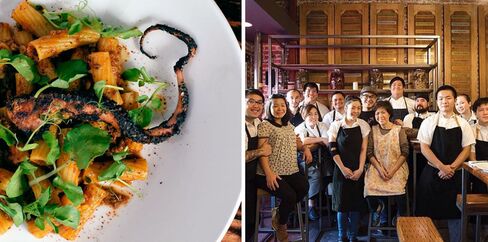 A year later, while on a cooking hiatus in Vietnam to visit her family, Loan Le suffered a stroke. By the time the Le family got back home to Honolulu, Loan didn't have the energy she did before, and she didn't remember all the things she'd taught Andrew about traditional Vietnamese cooking.
It was Andrew's turn to remember—and to teach Loan how to cook again. "We started small," Andrew explains. You hold an onion. You get used to peeling it. Then you chop it, fry it, add sugar and fish sauce. "Before you know it, you have a dish," Andrew says, sitting in the restaurant after his shift. Dish by dish, one onion at a time, Andrew brought his mother back toward the classic Vietnamese dishes she loved. Loan now has a folding chair permanently set up in the prep room, for the days when she comes in to check up on the kitchen.
Andrew's own cooking changed in the meantime. It became more focused and, in some cases, more traditional. "That's when we started the farmers market stall," Andrew explains, "And we made all the food my mother cooked for us." Sure, you can still find the French dip-style sandwich and the bacon-infused pho, and there's an extravagant bowl of snails coated in bone marrow and fried betel leaves at the restaurant, which you can spread on hot slices of grilled baguette. But alongside these composites are things that Andrew says he won't touch, such as the Cha Ca La Vong, a famous dish from a Hanoi restaurant by the same name.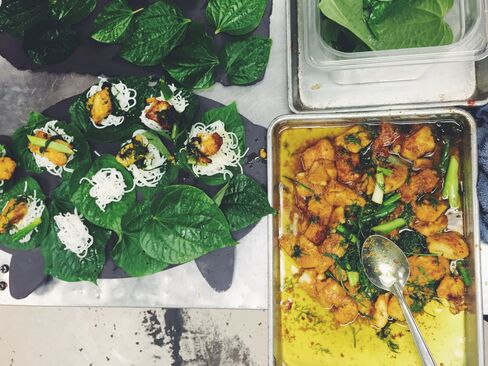 To make it, Andrew marinates catfish with fermented rice paste, turmeric, ginger, and shrimp paste, which stains it a gorgeous neon yellow and lends it a soft edge of sourness. The fish is served with an ostentatious amount of dill and herbs over fresh rice noodles. And it's delicious like that, the way it's been eaten for more than a hundred years, the way it's now served at the Pig and the Lady.
But you can find it other ways there, too: Andrew stuffs the La Vong-style catfish in a sandwich with local tomatoes and pickles and calls it a Po' Boy. And he recently piled small pieces of it on fresh, shining betel leaves with noodles to make a tasty little cocktail snack.
"Sometimes you have to keep it hard-core traditional," he says. And you know what this means: Rest of the times, you don't.
The Pig and the Lady is at 83 North King Street, Honolulu, Hawaii; (808) 585-8255 or thepigandthelady.com
Before it's here, it's on the Bloomberg Terminal.
LEARN MORE