Osborne Says U.K. Police Spending Won't Fall Amid Terror Threats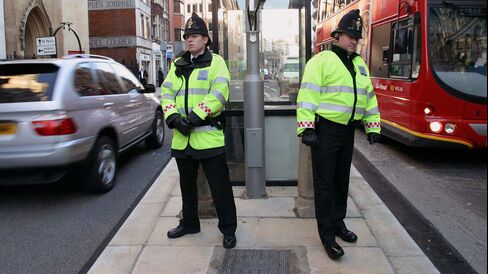 Spending on Britain's police forces will be maintained, Chancellor of the Exchequer George Osborne said, as governments across Europe react to growing terrorism threats.
"Now is not the time for further police cuts," Osborne told the House of Commons in London Wednesday in his end-of-year financial statement. "Now is the time to back our police and give them the tools to do the job. I am today announcing there will be no cuts in the police budget at all. There will be real terms protection for police funding. The police protect us, and we're going to protect the police."
Osborne said he'd heard calls for police budgets to be cut by as much as 10 percent as he seeks savings across government spending in a bid to achieve a budget surplus by the 2019-20 financial year. He told lawmakers further savings can be made as individual forces merge their back-office operations and share expertise.
The U.K. government has announced extra spending on security in the wake of the Paris terrorist attacks earlier this month, including an additional 12 billion pounds ($18 billion) on military equipment and the recruitment of more intelligence officers.
Before it's here, it's on the Bloomberg Terminal.
LEARN MORE