Osborne Announces 2019-20 U.K. Surplus Above Previous Forecast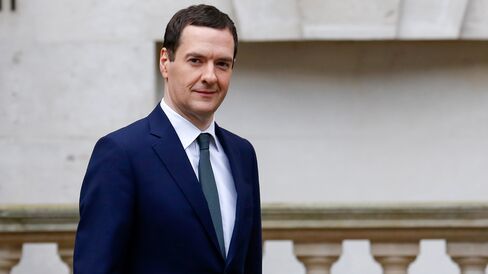 The U.K.'s planned budget surplus in 2019-20, when government finances get back into the black, will be slightly higher than previously forecast, Chancellor of the Exchequer George Osborne announced.
The Office for Budget Responsibility is forecasting that the surplus will be 10.1 billion pounds, Osborne told lawmakers in London in his end-of-year fiscal statement Wednesday. In the July budget, the prediction was for a 10 billion-pound surplus. That's partly due to statistical changes that mean public-sector housing associations have been brought on to the national balance sheet.
The deficit in 2015-16 will be 73.5 billion pounds, according to the OBR, falling to 49.9 billion pounds the following year. The 2015-16 deficit forecast was 69.5 billion pounds at the time of the July budget, but that's no longer directly comparable as a result of the accounting change.
"The forecast I present shows that after the longest period of rising debt in our modern history, this year our debt will fall and keep falling in every year that follows," Osborne told the House of Commons. "The four-year public spending plans that I set out are forecast to deliver that surplus, so we don't borrow forever and are ready for whatever storms lie ahead."
Before it's here, it's on the Bloomberg Terminal.
LEARN MORE