Ex-JPMorgan Banker Confirmed as Argentina's Finance Minister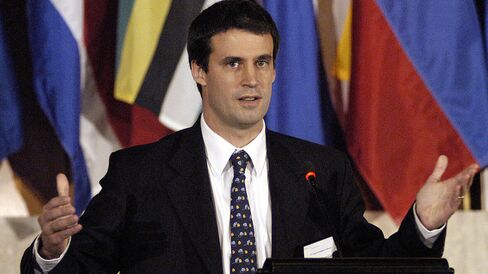 New government to create an energy and mining ministry

Prat-Gay served as central bank president from 2002-2004
A former JPMorgan Chase & Co executive and central bank president, Alfonso Prat-Gay, will be Argentina's new finance minister, responsible for rolling back a decade of state intervention in the economy.
The new government, due to take office Dec. 10, will also create an energy and mining ministry to be headed by Juan Jose Aranguren, former chief executive officer of Shell Argentina, Cabinet Chief Marcos Peña told reporters Wednesday.
President-elect Mauricio Macri has pledged to open up the country's economy following 12 year of rule by President Cristina Fernandez de Kirchner and her late husband. He has also said he plans to reduce the power of the current economy ministry to diversify decision-making, with the finance minister playing a key role in a newly-formed economic cabinet comprised of six ministries. Prat-Gay said Wednesday that Macri's government plans to present a package of new laws to Congress in its first week.
"They're building a great team with solid technical grasp, it's way superior to what we've had previously," said Fernando Jasnis, a money manager at Explorador Capital Management. "It's a good signal, this team is going to promote trust. They're people with a great track record and reputation in the market."
Peña also confirmed that Federico Sturzenegger, a lawmaker from Macri's Pro party who was president of Banco Ciudad, the bank owned by the Buenos Aires city government, would become president of the central bank. Macri economic adviser Rogelio Frigerio will become interior minister, while Francisco Cabrera, the head of a think-tank linked to the party of the incoming president, will become production minister.
Macri won Sunday's presidential election by a margin of 51.4 percent to 48.6 percent and will have to govern without a majority in either chambers of the congress.
Currency Controls
Asked to define exactly when Argentines will be able to step into an exchange house and buy dollars following four years of currency controls, Prat-Gay said earlier in the day that it would be a priority.
"The president-elect has said he wants them to be lifted as soon as possible and we're working toward that," he said.
The new finance minister will inherit a challenging economic scenario: reserves are at a nine-year low, the budget has the widest deficit in 30 years and the peso is at its most overvalued against the Brazilian real since the establishment of the Mercosur trade bloc in 1991. One of his first tasks would be to find a resolution to a decade-long legal battle with disgruntled creditors from the 2001 default that's blocking Argentina from international capital markets.
"We're going to work to resolve the issue with the holdouts," Peña said. "We want to defend the interests of Argentines, and believe the correct way to do so is by creating opportunities to deepen investment."
As central bank president from 2002 to 2004, Prat-Gay halted a surge in inflation following the debt default and currency devaluation and helped spark a recovery from Argentina's worst recession on record. He cut the inflation rate to 5.3 percent in 2004 from 40 percent at the start of his term in December 2002.
Despite winning the Euromoney magazine central bank governor of the year award in 2004, former President Nestor Kirchner chose not to renew his mandate as Prat-Gay pushed for more autonomy for the central bank.
Prior to his appointment as president of the central bank, Prat-Gay was the head of emerging market research at JPMorgan Chase. After leaving the central bank, he founded Tilton Capital, an asset management company. He entered politics in 2009 when he was elected as a lawmaker for the opposition's Civic Coalition led by Elisa Carrio.
"On the economic side, Macri's team is top notch," Daniel Kerner, head of Latin America research at Eurasia Group, wrote in a note today. "The main challenge for Macri will be to minimize the political cost of the economic adjustment. His institutional and political weaknesses will become more problematic if he loses support rapidly because of the adjustment."
Before it's here, it's on the Bloomberg Terminal.
LEARN MORE