Argentina's President-Elect Playing Dangerous Game With the Peso
Macri reiterates pledge to lift nation's currency controls

Official and black-market rates are currently 58% apart
If there's one point Argentine President-Elect Mauricio Macri has been crystal clear about, it's that he hates all the rules and restrictions throttling the country's currency market. On Tuesday, two days after defeating the pro-government candidate, Macri reiterated his pledge to do away with the foreign-exchange controls immediately upon taking office next month.
It's an audacious plan, one that has the potential to jump-start his efforts to lure much-needed investment to the country but also one that comes with great risk. With the official and black-market exchange rates currently 58 percent apart, lifting the controls will almost certainly trigger a plunge in the value of the peso. That could cause a surge in consumer prices in a country where inflation is already running above 20 percent, deepen the economic slowdown and spark a public and political backlash against the new government.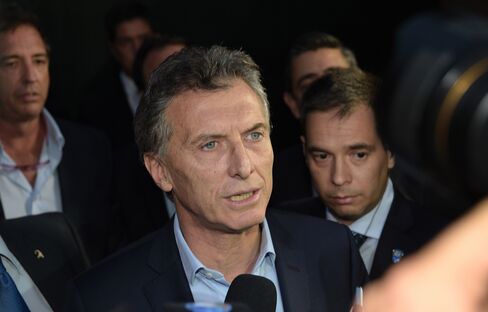 The plan is so fraught with risk and so logistically difficult that many outside observers insist that he won't really try to pull it off so quickly. They chalk it up to campaign rhetoric. But Macri isn't toning down his language as president-elect. When asked Tuesday how fast he'd move, he replied Dec. 11, one day after he's sworn in.
"History is littered with the corpses of countries that have abandoned capital controls precipitously," said Barry Eichengreen, an economics professor at the University of California at Berkeley and former senior policy adviser to the International Monetary Fund during the 1997-1998 Asian financial crisis.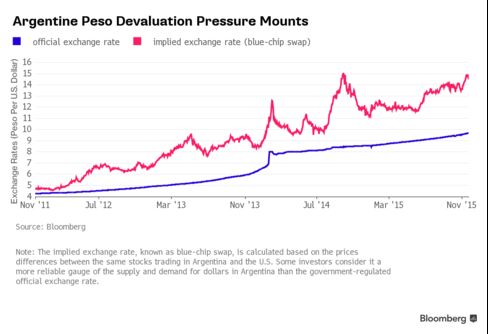 Should Macri, two-term mayor of Buenos Aires and wealthy businessman, follow through on the rhetoric, the $540 billion economy could suffer a big blow. "There will be a single exchange rate," Macri said Tuesday. "The controls don't make sense any more since there aren't even any dollars left to defend in the central bank."
Assuming he devalues the peso by 39 percent to 15.8 percent in three months to align the exchange rate with black-market prices and removes utility subsidies, the central bank will have to raise interest rates to 40 percent by September to control inflation, according to Oxford Economics, a U.K. research firm. Under such a "shock therapy," the economy will shrink by about 3 percent annually in the next two years before picking up in 2018, economist Luiz Kessler wrote.
Venezuela, a neighbor and long-time ally, has been there before. In 1989, newly-elected President Carlos Andres Perez abruptly lifted foreign-exchange controls and let the currency plunge after finding that the central bank was running out of foreign reserves. Consumer prices soared 21 percent in one month alone, leading to the "Caracazo" riots that killed hundreds and spurred Hugo Chavez, then an Army officer, to accelerate plans to stage a coup attempt that launched his political career.
Instead of shock and awe, Macri should adopt a gradual transition to a free-floating exchange rate, said Paulo Vieira da Cunha, a former Brazilian deputy central bank governor. That would give the government time to pass measures that will soak up extra pesos, implement a credible fiscal plan and draw in cash from abroad, he said.
"There is a difference between doing something gradual with credibility and doing something haphazardly into a void," said Cunha, now chief economist at Los Angeles-based money manager Ice Canyon.
No one is saying Macri shouldn't start implementing changes quickly. After 14 years of rule under the Kirchners, the economy is reeling from the lowest foreign reserves in nine years at $25.8 billion, the biggest budget deficit in three decades and a regulated currency that's failed to depreciate in line with inflation. In the last four years, the peso has fallen just 55 percent, compared with annual price increases of more than 20 percent since 2011.
Excluding items such as dollars held for commercial lenders and a $10 billion currency swap with the People's Bank of China, the country has just $2 billion in readily-available reserves, according to Barclays Plc. Rigid currency controls are one of few measures that keep the country afloat amid relentless capital flight.
But for Macri, the margin for error is thin. As 49 percent of voters went for his opponent the ruling party candidate Daniel Scioli, unpopular measures of large devaluation, coupled with spending cuts and tax increases, would only alienate Argentines and erode his political support.
Mario Blejer, the nation's former central bank president who devalued the peso in 2002, said capital controls should only be phased out and lifted sector by sector, starting with importers. To mitigate the impact, Macri will have to increase interest rates on central bank notes and spur demand for pesos, said Blejer, who boosted those yields to 140 percent 14 years ago.
"We used to think about it as an equation in which the greed for higher interest rates will trump the panic of holding pesos," Blejer, who was most recently advising Scioli, said from Buenos Aires. "They'll see that it's difficult. You can't just change everything from one day to the next."
Another doubt for investors is the ease with which Macri can implement these changes without the support of the central bank. Alejandro Vanoli, who was appointed by Cristina Fernandez de Kirchner to govern the bank and deemed unqualified for the job by Macri, has vowed to carry out the rest of his term through 2019. He's being investigated for illegal operations in the dollar futures market. While Vanoli has said the fraud allegations are politically motivated, they may pressure him to step down, according to Barclays strategist Sebastian Vargas.
Ultimately, Macri's narrow victory over Scioli may be the loudest call for a gradual approach, said Vargas.
"What I'm seeing is that they're becoming aware of the magnitude of the adjustments, maybe because of how close this race was, and that's going to impact how aggressive they are," he said in an e-mail.
Before it's here, it's on the Bloomberg Terminal.
LEARN MORE