What's `Gradual' in Fedspeak? Markets Obsess Over Latest Riddle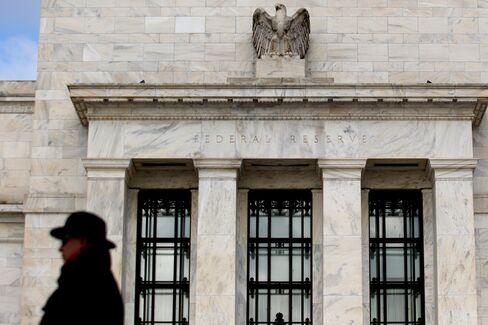 Yellen's contribution: `gradual' doesn't mean `mechanical'

`Join the dots' and find out, other Fed officials say
When Loretta Mester, president of the Federal Reserve Bank of Cleveland, took queries from a local audience on Nov. 13, it didn't take long for someone to pose the question that now obsesses the investment world.
"What does 'gradual' mean?" asked Craig Evers, an economist at hedge fund firm Brevan Howard Inc.
The answer, when it eventually comes, will set a course for financial markets worldwide. Barring an upset, the Fed is expected to raise its benchmark interest rate in December in what may be the most anticipated policy move in its 100-year history. Because investors now think they know when the initial hike is coming, they've switched focus to the pace of subsequent increases. And "gradual" is the clue the Fed keeps providing.
But what does the word -- from the Latin "gradus," or step -- mean in Fedspeak? Janet Yellen and her colleagues aren't really saying, and the science of semantics can only offer limited insight.
Quite Vague
"It only means something when used in a given situation and even then can be quite vague," said Molly Diesing, director of graduate studies at Cornell University's department of linguistics.
In other words, it can mean pretty much whatever Yellen and her colleagues want it to mean -- and that's probably no accident.
"From the Fed's point of view, it's an ideal phrase," said Lee Ferridge, head of macro strategy at State Street Corp.'s asset management unit in Boston. "It tells you they're not going to hike at every meeting, but it doesn't commit them to any sort of pace."
Though it's attracting more attention now, the Fed has been making use of "gradual" for more than two years. In its quarterly Summary of Economic Projections, or SEPs, the Fed has repeatedly said policy makers expect to raise rates "relatively gradually" or "fairly gradually."
Yellen has used versions of the term in public comments since at least March. She's also been particular about what "gradual" doesn't mean.
Mechanical Approach
There is "no plan to follow any type of mechanical approach to raising the federal funds rate," she told the media after the June FOMC meeting.
Under Alan Greenspan, the Fed hiked by 0.25 percentage points at 17 consecutive sessions, from June 2004 to June 2006 -- an increase it usually described as "measured."
But that created too much predictability, and encouraged too much risk-taking by investors, according to a now-widespread view -- one reason the Fed generally avoids the term now.
More recently, investors have wondered how long a period was "considerable time." That's how long the Fed, beginning in September 2012, pledged not to raise rates while it waited for the economy to heal.
Not Impatient
In December 2014 the FOMC moved on, now pledging to be "patient." Just when Fed-watchers were beginning to figure out what that meant, the word was dropped in March 2015. Yellen's gloss on the move: "Just because we removed the word 'patient' from the statement doesn't mean we are going to be impatient."
As for gradualism, that may simply be how the Fed sees the economy behaving. In the quarterly summaries, the Fed has to say how it sees output expanding in the coming years. Since April 2012, the term of choice has been -- you guessed it -- "gradually."
That's essentially what Mester told her questioner in Cleveland.
"When we say 'gradual,' we're trying to express what our read is of current conditions and the outlook," she said. "It's going to depend on how the economy evolves."
Mester and Richmond Fed President Jeffrey Lacker say investors trying to interpret "gradual" should consult the so-called dot-plot portion of the quarterly report, which graphs policy makers' projections for the fed funds rate.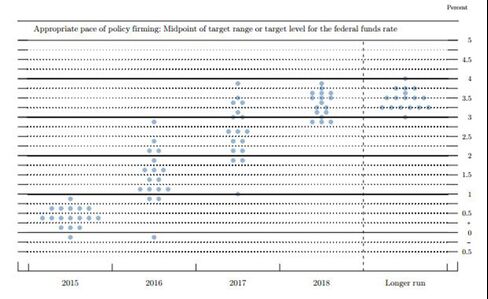 The Fed's benchmark is currently in a range of zero to 0.25 percent, where it's been since December 2008. September's median forecasts imply four quarter-point increases next year, pushing the rate toward 1.5 percent, and another five in 2017.
Individual Predictions
Roberto Perli, a former Fed economist now at Cornerstone Macro LLC in Washington, is skeptical of the dots. He says the median or mean of 17 individual predictions isn't a good guide to how Yellen will forge a consensus from a divided committee.
"The dots don't care about compromise, they're probably not the best predictor of what will actually happen," he said. Perli thinks reality will be more gradual than the dots: he predicts three hikes a year following liftoff.
Richard Clarida, global strategic adviser at Pacific Investment Management Co., dislikes the dots for a different reason.
They're fine, he said, if the underlying economic projections -- on unemployment, inflation and growth -- that drive the rate forecasts prove accurate. But if they're not -- and they've consistently been wrong in the past -- investors are left guessing again.
"What we don't know is what will be the rate path if the economy doesn't look like the SEPs," Clarida said. Because Fed officials haven't done a good job of explaining their decision-making methodology, their response to alternative scenarios can't be predicted, he said.
Fear not, says James Bullard, president of the St. Louis Fed. The fog will start to clear, and investor angst will ebb, when the Fed makes its second rate increase of the new cycle, he told reporters Nov. 12.
Until that time, whenever it is, he said, "we will not have credibility on the issue of how gradual is 'gradual'."
Before it's here, it's on the Bloomberg Terminal.
LEARN MORE